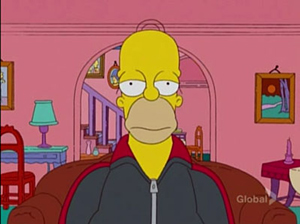 On Sunday, Dec. 16, Noah Kalina, a freelance photographer based in Williamsburg, was parodied on an episode of The Simpsons.
For six years starting in 2000, Mr. Kalina, now 27, took a digital photograph of himself every day. He then compiled the pictures chronologically and created a short movie of the gallery, Everyday, accompanied by music recorded by his girlfriend on her keyboard. "I got sort of inspired by digital technology," he told the Transom in a phone interview on Dec. 17. The video, which he posted on YouTube.com in August 2006, became an Internet sensation, spending some time on the site's "Most Popular" list.
The Simpons homage to the project was slightly different. "It was, like, Homer taking pictures of himself starting when he was a baby," Mr. Kalina said. "They just took it to an extreme level."
Dozens have imitated the project, but "clearly mine was the Simpsons' inspiration," Mr. Kalnia said. "They used the song that I had in my video."
Indeed, the use of the music came as a surprise to its composer, now Mr. Kalina's ex, one Carly Comando. Ms. Comando said she had been contacted by a Simpsons producer and had discussed a $6,000 fee, but that the e-mail trail died and she figured the music would not be used. She is currently in talks to rectify the situation. (A publicist for The Simpsons didn't return calls for comment.) "I'm very proud of Noah and I'm very proud that I got to be part of his whole trip to fame," Ms. Comando said.
Mr. Kalina, who watched the episode with his mother, also pronounced himself pleased. He said that in general people have been "inspired and amazed" by his undertaking. "I guess it's the dedication and the sadness and … the simplicity." Sadness?
"I still do the project," Mr. Kalina said. "And lately I've been noticing more of a change and it's sort of hard to deal with the receding hair line and the aging face."