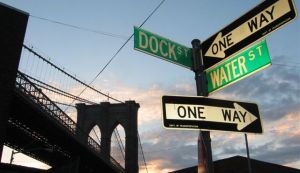 The Landmarks Preservation Commission voted unanimously today to designate DUMBO as a historic district, but the decision must be approved by the City Council and the City Planning Commission before the Brooklyn neighborhood officially becomes New York's 90th historic district.
If passed, as is widely expected, all developers will need to get the green light from the commission before going foward with construction.
"DUMBO's distinctively designed buildings and sublime vistas survive to this day, and still define its character, even as it has evolved into a largely residential neighborhood. This designation will ensure that this still-evolving neighborhood retains its unique historic character," said Commission Chairman Robert B. Tierney in a statement released following the vote.
Music to all developers' ears.