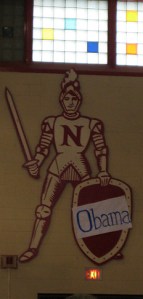 U.P.I. editor-at-large Arnaud de Borchgrave makes the case for a Michael Bloomberg candidacy on two fronts: the stalled Mid-East peace process and the unfolding sub-prime mortgage crisis at home.
The randomly determined line-up for the New York State G.O.P. primary ballot puts Rudy Giuliani last.
Michael Crowley notes some similarity in messages from the Giuliani and Hillary Clinton campaigns.
One of John McCain's delegates was a Giuliani supporter last spring.
John Edwards explains his complex plan for beating Clinton.
Ron Paul is winning the bumper sticker primary in Maine, according to Phil Anderson.
Glenn Thrush has more about The Bhutto Effect.
Betsy Gotbaum does some consumer protection work.
In the comments section, Spike, who says he's a "a lifelong Republican from the SouthWest" can't wait for Bloomberg to run.
David Yepsen writes about the two meanings of coming in third in Iowa.
Richard Baehr thinks he has an idea of who Clinton has in mind for a running mate.
Max Pizarro writes that Giuliani is at risk of becoming a coastal candidate.
Sarah Elkins writes about "D list" celebrity endorsements from Jenna Jameson, Harry Belafonte and Ted Nugent, among others.
And pictured above is an embellished decoration from Barack Obama's appearance in the Newman Catholic High School gym in Mason City, Iowa.