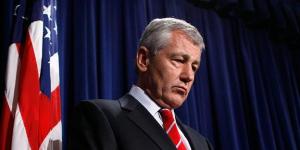 "Regular, private phone conversations" between Mike Bloomberg and Chuck Hagel about a potential '08 teaming?
A Fox News poll puts Rudy, Huckabee and McCain in three-way tie nationally, with Hillary 29 points up on Obama among Democrats. (Also: Apparently McCain is more popular than Oprah Winfrey.)
The L.A. Times gallantly tries to ward off an onslaught of Ron Paul supporters. And fails.
Mitt Romney doesn't have any memory of that time he went to the Planned Parenthood fundraiser, but he's positive his father told him he marched with Martin Luther King.
And Romney picks up the backing of Tom Tancredo, who is very influential with….the Tancredo family.
Rudy bags the endorsement of a daily paper on New Hampshire's coast…
…and gets a clean bill of health.
Other New Hampshire papers are siding up in the presidential race.
The (Manchester, N.H.) Union-Leader, which gave John McCain a front-page endorsement a few weeks ago, writes of his suddenly rosy prospects in the state…
Bill Richardson tells a 16-year-old girl in New Hampshire that she's wrong – but it turns out she's not.
Mike Gravel finally gets some ink! In a web-based publication for gay Europeans!
…while the candidate offers a preemptive denial.
This is what happens when a Republican political operative gets thrown under the bus by his own party.
This map indicates that the presidential candidates have spent shockingly little time in Kansas.
And finally, you probably haven't heard of Dapper O'Neil, an old school Boston politician who never married his girlfriend of 57 years because "I don't like to rush things," but he died today at age 87. He was the last of the Boston pols who came of age in the era of James Michael Curley.