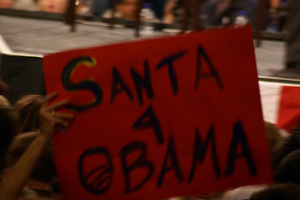 The Assembly won't be meeting tomorrow, but Joe Bruno wants you to know the Republicans will be working anyway.
Rudy Giuliani said at today's debate, "I think I've had an open transparent government and an open transparent life."
The governor of Texas means to say "Rudy Giuliani" during an endorsement speech, but actually says "Mike Huckabee."
Giuliani is going to give a big speech this weekend in Florida, probably to stop his campaign's free fall in the polls, says Jonathan Martin.
Andrew Giuliani doubts his own ability to make or break his father's candidacy.
Michael Bloomberg wants to block an automatic reduction in the city's sales tax.
The Clinton campaign calls the Obama campaign's anti-Edwards mailing "a seedy hit piece."
The City Council is trying to regulate debt collectors.
Jim Wright is retiring.
D.M.I gives a positive review to Dick Gottfried's universal health plan for New York.
John Edwards posts his response to the top 10 videos from 10Questions.
Congressman John McHugh launches a blog.
Madeleine Albright surprises a reporter.
In the comments section, Nancy Sinatra wonders how much damage Eliot Spitzer has done to upstate Democrats.
The Daily News blog will now require commenters to register once before posting their remarks, an approach we tried, and abandoned [updated].

And pictured above is an Obama supporter's sign in Des Moines last week.