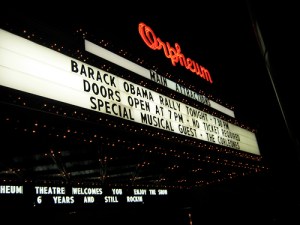 Eleven people were arrested for trespassing outside Rudy Giuliani's campaign offices in Manchester, New Hampshire.
George H.W. Bush says that even if Bill Clinton said so, he's not going on a diplomatic mission under a Hillary Clinton presidency.
Joe Bruno calls Eliot Spitzer's higher education plan "pie-in-the-sky."
Tom Kean is allegedly firing some staffers today.
Albany County legislator Phil Steck will run for Congress.
Al D'Amato goes shopping in Albany.
The Wall Street Journal thinks McCain is having a primary comeback. [subscription]
McCain makes a play for New Hampshire independent voters.
State Senator Serphin Maltese, who is running with the campaign slogan "Serf's Up" and is a target of Senate Democrats, celebrated his birthday with a fund-raiser, reports Liz.
New York Republican Congressmen Vito Fossella and John Kuhl are not financially prepared to deal with strong Democratic challengers.
Obama's new direct mailer criticizes John Edwards.
Obama is the only leading Democrat that hasn't been endorsed by a labor union.
Steve Forbes writes an op-ed on Pajamas Media about why he supports Rudy Giuliani's economic positions.
Rich Lowry says why Giuliani needs a miracle.
John McCain is direct mailing about his Christmas inspiration as a prisoner of war.
The president of the Catholic league thinks Huckabee's Christmas ad was too religious.
John McIntyre thinks Huckabee might be helping Romney.
Huffington Post digs up an old video of Obama saying Ted Kennedy should get some spine.
The Politico has your complete caucus guide.
Richard Cohen thinks the Clintons are on the wrong side of change.
The New York Times editorial board urges Sheldon Silver to make judicial pay raises happen.
According to Gothamist, Bloomberg is the #1 enemy of potholes.
And pictured above is the marquis of the Orpheum Theatre in Sioux City, Iowa, where Barack Obama appeared last night.