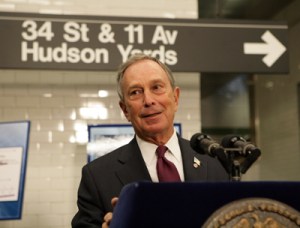 Phil Anderson is interested in hearing what Assemblyman Richard Gottfried has to say tomorrow about a universal healthcare proposal.
Robert Morganthau announces the creation of a council to hear from immigrants who don't report crimes for fear of deportation.
Anne Evans Estabrook will run for the G.O.P. Senate nomination in New Jersey.
Rudy Giuliani wants to be "president of everyone."
Andrew Cuomo and seven other Attorney Generals are suing R.J. Reynolds over Camel ads.
Liz reports some strife between Spitzer and the environmentalists.
Ben notes Hillary Clinton referring to her husband's tenure as "the first Clinton administration."
Michael Crowley notes that today's AP/Pew poll shows people don't like Rudy, but it's not because of abortion.
In the comments section, William Lockridge Harris thinks Bloomberg's congestion pricing plan isn't going to pass [updated].
Madonna supports Clinton for president.
Sullivan Country broke the law in processing absentee ballots from the last election. [added]
Chris Cizilli thinks Hillary Clinton suffered in today's N.P.R. debate partly because of the choice of questions: Iran, China and immigration. [added]
And pictured above is Michael Bloomberg in front of a sign for a subway station that doesn't exist yet. Joey at Curbed notes it would be best for the tourists if they took it down in the meantime.