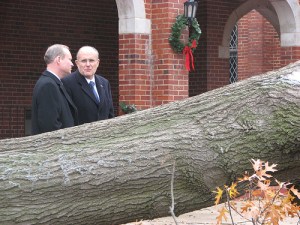 Max Pizarro questions Hillary Clinton's inevitability in New Jersey.
Al From is sad that Lieberman endorsed John McCain.
Davidson Golden writes of congestion pricing that it "is beginning to feel a bit like Dr. Evil's 'laser' in 'Austin Powers' — we know it's there, but we're not exactly sure what it does. "
The Primary Monitor Blog takes a look at what Bob Kerrey said when he endorsed Hillary Clinton, and why.
Roger Stone thinks hiring Ed Rollins was a bad idea for Mike Huckabee.
Phil Anderson thinks it's going to be hard for state Senate Democrats to raise the $8 million Malcom Smith thinks they need to take the majority.
And Liz reports their staff has just gone through an upheaval.
The city's new emergency alert system made a mistake in notifying people about last Friday's crane collapse.
Mayoral hopeful John Catsimatidis talks about housing in downtown Brooklyn.
Andrew Sullivan endorses Ron Paul.
Another former political ally of Rudy Giuliani is in trouble, again.
The cartoonist behind Dilbert thinks Michael Bloomberg must have good enough judgment to be president, since he earned so much money.
Tom Elliott has a list of all the things that were banned by the city and state lawmakers.
And pictured above is Rudy Giuliani next to a tree that fell during an ice storm last week in Oklahoma City.