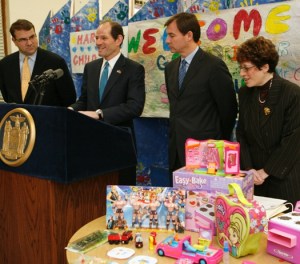 Christine Quinn goes to Ireland, and Liz predicts a quiet end of the week at City Hall.
Brooklyn District Attorney Charles Hynes calls the mortgage crisis "the most serious problem that has faced this country since crack cocaine."
Michael Bloomberg supporter Karin Gallet stirs up some controversy by posting about her favorite independent presidential candidate on DailyKos.
John Riley speculates that the operatives behind the Obama questionnaire story are allied with the Clinton campaign.
You can now track Kirsten Gillibrand and other Congress members who've made their schedules public.
Phil Anderson finds a "no brainer" for Albany in the Great Lakes Compact.
More of Mike Huckabee's past is back to haunt him.
Fort Drum commanders are asking civilians who work there to volunteer to go to Iraq.
There's another episode of Betsy Gotbaum T.V.
Clinton criticizes Obama on healthcare in campaign literature.
The National Review endorses Romney.
The founder of the Minutemen endorses Huckabee.
Looks like stories about Hillary's and Rudy's laughs are here to stay.
Spitzer makes a judicial nomination.
He also nominates a commissioner for the Waterfront Commission with whom he has a history.
And pictured above is the governor yesterday announcing a statewide recall of unsafe toys.