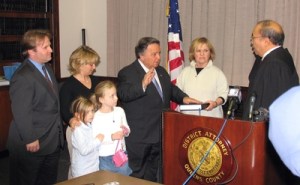 The state Commission on Public Integrity says Eliot Spitzer owes no money, but he's agreed to repay the state $140 for his use of aircraft [corrected].
Some City Council members are taking action against the practice of paving front lawns to make parking spaces.
Mike Huckabee compares his campaign to a hunt, saying, "if you just stay out here, keep your gun ready, it might turn out okay."
A John Edwards campaign memo predicts more attacks from Barack Obama and more national security talk from Hillary Clinton.
Ben thinks it's important to remember that John Edwards is very present in Iowa, despite media coverage outside the state.
The Romney campaign points out that Bob Dole has rebuked Mike Huckabee for criticizing George W. Bush.
Hillary Clinton's dramatically scored new ad says the stakes for America are high right now.
McCain uses a P.O.W. clip and a clip of himself with Ronald Reagan to reinforce the idea that he was right all along about Iraq.
Those new city crime statistics may affect Giuliani's presidential campaign.
The Washington Post asks Al Sharpton if he's still relevant.
The unofficial spokesperson of the group that wants to strike down the new campaign finance law says a lawsuit is still in the works, reports Liz.
The M.T.A. spent $2.5 million on new uniforms for station clerks.
And pictured above is Queens District Attorney Richard Brown being sworn in for his fifth term earlier today. Brown has said (perhaps in jest, perhaps not) that he'd like to break Robert Morgenthau's record for years of service.