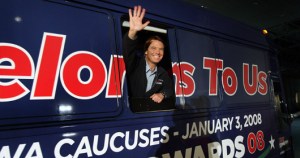 Indianola, Iowa—"The last thing anyone is interested in is seeing a bunch of politicians fight," John Edwards told a group of approving voters in an Indianola historical museum on Dec 13.
He said this convincingly.
Until very recently, Mr. Edwards unapologetically, even gleefully, filled the Democratic presidential field's role of chief instigator. Rarely a stump speech went by in which he didn't excoriate Hillary Clinton, by name, for voting with the Bush administration on Iran. His campaign sent Web videos to reporters accusing her of doublespeak and practicing "the politics of parsing." He compared her chief strategist to the Republican boogeyman himself, Karl Rove. And he suggested that Barack Obama lacked the sufficient fight to win the presidency and change Washington.
But that was before Mrs. Clinton and her chief rival for the nomination, Mr. Obama, ramped up a nasty spat that has basically monopolized the press' attention and pushed Mr. Edwards to the margins.
Now, with the two front-runners bickering, the candidate who has long since seen his early lead disappear in this must-win state is pursuing his own version of the 2004 John Kerry moment, when the Massachusetts senator unexpectedly slipped by the warring Howard Dean and Dick Gephardt to take Iowa and the nomination.
"I think there is a great opportunity, yeah" Mr. Edwards told The Observer on Dec. 14 in a Manchester, Iowa, restaurant after delivering a (highly positive) speech about his vision for the future.
"John has to make the case for himself," his wife, Elizabeth, said a few minutes later, between hugs from the restaurant's well-wishers. "I hope we have come to the point where people want to vote for something instead of against something. John gives people plenty of things to vote for. So you don't need an anti- reason to vote for him. You have a lot of pro-reasons to vote for him."
Mr. Edwards still talks about himself as an uncompromising fighter, but his targets are strictly Washington lobbyists or corporations—not the other candidates. His sunny disposition never sets in public and he dismisses the sort of fighting he used to partake in as indicative of the race's "silly season."
"January 3 is an extraordinarily important day for us," said Ms. Edwards during her introduction of Mr. Edwards at the Indianola event. She asked voters to "take a measure of the man, to look him in the eye, determine whether or not he is authentic, to determine whether or not he is sincere."
For all the press attention paid to the apparent dissonance between his personal life—$400 haircuts, investments with the Fortress hedge fund—and his working-class pitch, voters in small settings in Iowa have seemed to respond favorably to the appeal.
ON DEC. 13, MR. Edwards paused for some sledding and hot chocolate with his two kids, all of it documented by the cameras of his dwindling media entourage. Then they filed onto their campaign bus, the Main Street Express, and rolled south to the Warren County Historical Museum in Indianola, where about 100 Iowans, many dressed in snowflake- or snowman-dotted Christmas sweaters, waited to hear him.
Before addressing the audience, Mr. Edwards and his wife first met privately with a small group of undecided voters in an adjacent room, which exhibited a re-creation of an old-fashioned main street. Mr. Edwards talked with voters about Pakistan, local farm issues and trade.
Russ Vanderhoef, a 60-year-old English teacher from Indianola, said he asked Mr. Edwards why he and Mr. Kerry seemed to roll over during the Swift boat attacks last election.
"Elizabeth jumped in and said, 'Actually, he grew up in a mill town,'" recounted Mr. Vanderhoef. "'He's been scrapping for years.' [Edwards] said that it certainly wasn't his decision to let the Swift boat guys do their thing. It was Kerry's call."
In the main room, where the vitrines held yellowed copies of decades-old copies of The Des Moines Register, antique rifles and binders labeled "quilt register books," Ms. Edwards, dressed in a gray pantsuit, introduced her in-laws and then her husband by saying that the description of him as an "accidental populist" didn't fit, because, she said, "his positions are not accidental at all."
Mr. Edwards, dressed in light blue jeans, a blue buttoned-down shirt opened at the collar and a fleece emblazoned with a John Edwards 2008 insignia, took the microphone and said his two kids were watching a movie on the campaign bus, because they couldn't stand listening to another speech.
He spoke flatteringly about the "very strong presidential candidates on our side" and then proceeded to argue the case that he alone was strong enough to change Washington.
"We are three weeks from tonight till the Iowa caucuses," he said. "You can feel people in Iowa standing up and saying we are going to do something about this. Not alone, but with you, we are going to do something about this."
He continued, "And so will we together, stand up, rise up and do these things together?"