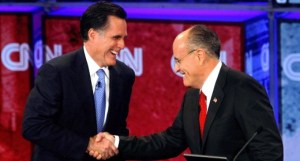 It was only a matter of time until Jane Swift, the Republican who served as the acting Governor of Massachusetts from 2001 until 2003, lashed out at Mitt Romney, her successor.
Swift, who is supporting John McCain, used an op-ed in Monday's Manchester Union-Leader to warn primary voters in New Hampshire that Romney's rampant flip-flopping will render him unelectable against a Democrat. She makes a strong case, particularly in noting that Romney, who boasts on the campaign trail that he closed a gaping budget hole without raising taxes, imposed onerous fees on Massachusetts as governor.
But she also omits a very significant detail: Romney publicly humiliated her in 2002 and helped to end her political career.
Swift entered '02 poised to claim the G.O.P. nomination for governor. She'd ascended to the post a year earlier, when Argeo "Paul" Cellucci resigned to become Ambassador to Canada. (Cellucci had made Swift, then a 33-year-old former state senator from the Berkshires, his running-mate in 1998.) Her tenure had been rocky and polls showed her losing to the likely Democratic candidates, but none of the eight or so other Massachusetts Republicans seemed likely to run.
Except for Romney–who was in Salt Lake City, where he'd been preparing for the Olympics since 1999. Publicly, he denied interest in the Massachusetts race while Swift adamantly declared that she would run, with Romney's support. But the glowing, prime-time coverage Romney received during the February Olympics made him something of a local hero in Massachusetts. His associates promptly spread the word that he'd run if the G.O.P. establishment wanted him to. Swift scrambled to use her incumbency to prevent a mutiny, but it was futile. Days after the Olympics, a Boston Herald poll found Romney beating the acting governor by a stunning 63 points in a prospective primary. Almost immediately, she backed out–offering only lukewarm support for Romney and biting her tongue when he took public swipes at her during the general election campaign.
The fact that some many prominent Massachusetts Republicans are shunning Romney–Cellucci and former state Treasurer Joe Malone, two of the only four Republicans to win a statewide elections in the last three decades, are both with Rudy Giuliani–is definitely revealing. Swift's arguments may be valid, but she'd be more credible if she at least acknowledged the personal aspect of her resentment.