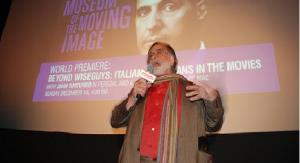 "They always play The Godfather [theme] when I come down at these things," said Francis Ford Coppola, looking jovial and scruffy in colorful layers last night at a screening of his new movie Youth Without Youth (opening Dec. 14) at the Paris Theater. "I beg the audience to let me move on, find new ways of expressing myself."
Mr. Coppola wrote, produced and directed Youth Without Youth through his independent film studio, American Zoetrope, Ltd, which was established 1969 so that the prolific director could make more personal movies and avoid the major studios (remember what happened with Apocalypse Now?) It also financed his daughter Sophia Coppola's Academy Award winning Lost in Translation.
Although the sponsors of the screening, the Museum of the Moving Image and Variety, did not cue The Godfather's lilting horn to soundtrack Mr. Coppola's entrance, many of the bundled audience members nibbling complimentary popcorn, tiramisu-flavored pastries and hyped up on Tava caffeinated drinks were probably mostly familiar with his work as the director of the Godfather movies.
Although it may perturb Mr. Coppola that more fans don't recognize his other works (say, The Bellboy and the Playgirls from 1962?) he seemed to understand while discussing the power of movies five minutes into the discussion: "Films have a tendency to live a long time and they affect people 10 years later."
"I don't make any of them, films, for commercial reasons," Mr. Coppola said, adding that his other investments in real estate and wine finance most of his projects.
"Who has had a bottle of wine from the Coppola [business]?" he asked the crowd. "You are all executive producers of this movie! That was how I was able to finance this movie without anyone's permission except yours."
Although Mr. Coppola certainly seems to want to challenge his audience with his new, abstract film, he is hopeful for the future, as he mentioned before its screening: "The first 45 years [of filmmaking] is breathtaking and imagine what the next 100 years will look like."
Youth Without Youth is based on a World War II novella by Romanian author Mircea Eliade. Tim Roth plays an aging linguist, Dominic Matei, who is struck by divine lightning, only to wake up 10 weeks later in perfect health, and about three decades younger. He transforms into a kind of immortal Superman with special memory and intelligence talents that attract Nazi scientists.
While he is in hiding, he meets his lost love, Laura (played by Alexandra Maria Lara, a stunning Romanian woman in her first major movie role). She can channel spirits from past lives and speak languages from before the beginning of time. Dominic can finally complete his life's work of tracing the origin of language! But when his research begins to disintegrate his lovers' beauty, he must decide between saving Laura, or the other love of his life: his work.
Mr. Coppola became interested in telling Dominic's story after reading Mr. Eliade's novella. "The story touched my life," he wrote in production notes. "Like its leading character, Dominic, I was tortured and stumped by my inability to complete an important work. At 66, I was frustrated. I hadn't made a film in eight years."
Mr. Roth, looking jittery in jeans and telling subtle jokes between questions, said he felt "safe in the clutches of the director," and explained that wrapping his head around all of the films, well, heady ideas was tough work. He was hoping he was just "getting what he [Mr. Coppola] wanted done," so he gave up on taking it all on himself and relied on Mr. Coppola to explain everything to him. "I would talk to him specifically about what was happening in the specific situation," Mr. Roth said.
"I saw the challenges immediately but I was terrified at the same time that I wouldn't be able to do what I needed to do," said Ms. Lara in an endearingly thick Romanian accent while discussing her first time reading the script. She crossed her long legs, garbed in skinny-satin pants and velour boots, and explained that she needed to learn several languages, many of them ancient and barbaric, for the film. "As an actor, you're afraid of being ridiculous," she said, about having to get a little primal (in a thin, white nightgown, no less) for certain scenes.
"Maybe I was standing with more naïve eyes on the set," she said, adding how much she admired Mr. Roth and Mr. Coppola. "For me, to be able to breathe on that set…that was enough of a challenge.
Ms. Lara and Mr. Roth spoke after the screening with longtime Coppola editor Walter Murch (Apocalypse Now, Godfather II).
Mr. Murch said editing a film with such abstract themes can be difficult. "It's hard work to capture all of these ideas," Mr. Murch said. "How much of this can people take?"