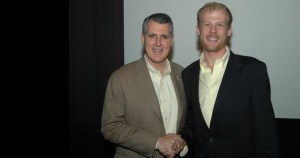 * Pictured above is Councilman James Gennaro with Josh Tickell, the producer and star of "Field of Fuel," a documentary about foreign oil dependence that has been selected for the Sundance Film Festival. As Gennaro's press release puts it, "The film also features a variety of people, including Woody Harrelson, Julia Roberts and Councilman James F. Gennaro, Chair of the Council's Committee on Environmental Protection."
* Councilman Simcha Felder will hold the second of two kick-off fundraisers for his bid for comptroller in Queens this Thursday. The suggested donation is $18, perhaps an effort to draw a contrast with rival David Yassky, who asked supporters for $500 at his kick-off. Felder's first event was in Brooklyn on Monday night.
* About 3,000 invitations will go out shortly for a January 10th fundraiser at Westwood Gallery for Robert Morgenthau – this as the 88-year-old District Attorney begins making noises about an '09 re-election campaign.
A reminder: If you have any tips, information on events, or just general comments, feel free to send them: skornacki(at)observer.com