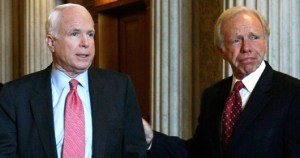 The woman spearheading the effort to draft Michael Bloomberg into the presidential election is pleased that former Democrat, current Independent Joe Lieberman has endorsed Republican John McCain.
"If you think about it, the argument can be made that McCain is quite the long shot," Karin Gallet told me. Gallet thinks Lieberman is basically saying, "it's more important we endorse the right person than just elect a Democrat."
"That's his demographic. That the purpose of voting [within one's] party hasn't achieved the objective of running America."
Gallet also said a national campaign strategist from a 2004 election will announce their support for Bloomberg later this week, if not sooner. Gallet, who declined to identify this person, said she learned of the endorsement during a more than hour-long conference call on Sunday with Bloomberg supporters in New York, Washington D.C., and Boston.