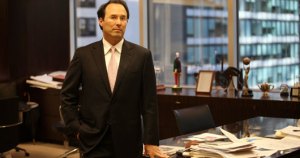 Location: Could you generally talk about what you tried to accomplish with your bids for the West Side rail yards?

Mr. Barnett: When we started to look at it, to us it became clear that any project that talks about having the massive platforms that would be required to build substantial buildings over the working railways is going to be extremely difficult to succeed … We took a very, very different avenue, which is to use bridge technology—it's technology that has been used in other uses elsewhere, but we've adapted it and are using it here to essentially bridge over the rail yards… So besides having the enormous benefit of not interfering with the Long Island Rail Road and making sure that commuter operations are uninterrupted, it is also way, way less expensive.
How much do you think you could save?
We would not want to disclose that now, but it is certainly in the hundreds of millions
Your architect, Steven Holl, told us that you gave him permission to do a design of his liking, setting aside the design guidelines from the Metropolitan Transportation Authority, the yards' owner. Why have you chosen to go down that path?
Because we know Steven Holl very well and we knew that if we didn't give him permission, he'd do it anyhow.
Many, I think, have seen the plan as architecturally bold, but something of a long shot—do you think that's fair and how do you think the MTA will receive the bid?
Why do you think we're a long shot?
I would think that you're viewed as not one of the traditional titans, and don't have an anchor tenant.
The truth is that the developers here are really the who's who of New York real estate to a large extent, and I don't include us in that who's who. … Our project works, it can get built, the financial parts of it make sense, and I think that it's superior just on its merits; but looking at the qualifications—Extell currently has under development in excess of 5 million square feet, with at least another 5 million square feet planned down the road. … I don't think any of the other partners have that much development ongoing … I think we're a long shot because I haven't done enough interviews, but other than that, I think we really ought to be in the No. 1 place, both on the merits of our design and the ability to execute.
What do you think of the other bids?
They're flawed simply because of the necessity to put the platforms over the yards, and the difficulty of doing that while there's a working railway yard underneath. If I had to pick the design that I like personally the most—that I thought that had just straight architectural [merits]—I don't think it's buidlable, I'll say that right now—but from an architectural design—I thought Tishman Speyer had a very nice architectural design.
Aside from the rail yards, do you think the far West Side will develop as successfully as the city imagines?
We haven't seen any commercial development get going, which means that the whole Hudson Yards aren't going yet … One has to question how fast that's going to happen, in a big way. … There is a lot of new product, and, of course, you have the whole new Penn Station redevelopment, where, of course, Vornado and Brookfield are very active – all of which are closer in, so it's not evident that you're going to have enormous commercial development going on there [on the far West Side].
We haven't even seen the same number of jobs that we had in 2000, yet we have these tens of millions of square feet of new office space on the books—could the city be overdeveloping?
There's a lot of potential development—I don't think we're seeing overdevelopment. If you look at the late 1980's, there were a lot of buildings being built on spec—you're not seeing that here… I think it will come as the market demands, and that's probably a good situation.
You've chosen Steven Holl for a number of your projects now. What do you think about the state of architecture generally in the city now?
We could certainly use some very handsome buildings, well designed, with nice artistic flair. We could use some more of those, and some more master planned projects that have that great design, because at the end of the day, great architecture is a living sculpture, and it's nice to have great artwork so that it unifies the city.
Years ago you were a diamond trader. Can you talk some about your shift into the real estate industry?
It's been a long time ago already, probably 15 years or so, that I've moved substantially into the real estate industry.
You have this perception that you've had this meteoric rise in the past decade, so I guess I'm just trying to understand why and how.
I don't think it's been meteoric; frankly, it's been step by step over a 15-year period. If you look at some of the things we have in New York, they've developed over the last 10 years, some of these development sites we have have taken that long to get done. It's just that I haven't wanted to take a very high profile, and didn't see the necessity, but then when you tell me I'm a long shot, I figure I've got to do it.
Compared to a lot of the other families in the real estate industry–they've been around for 100 years, 80 years. What was it like breaking into that?
I haven't seen any significant problems with that—again, it's been a step-by-step process, and that's kind of the way you do it. You have a better base if you go a little more slowly.