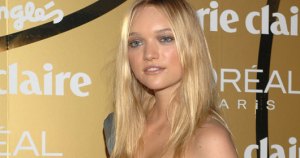 Model-cum-actress Gemma Ward's debut feature film, director Elissa Down's The Black Balloon, will debut at the 58th Berlin International Film Festival in February. Ms. Ward, 20, costars in the film about autism, which was selected as part of the festival's "Generation 14 Plus" youth competition, with fellow Aussies Toni Collette (who has a role in another film at this year's festival, Hey, Hey, It's Esther Blueberger), Rhys Wakefield and Luke Ford.
Ms. Ward's performance—she plays a "lamplighter" character, helping her boyfriend cope with his brother's autism—is, according to well-known Australian film critic Lynden Barber, "surprisingly impressive."
Whether a Vanity Fair cover/inside-nod will soon follow—à la Gretchen Mol, et al.—is anyone's guess, but Ms. Ward sure seems to have all the right assets.
Ms. Down, who has two brothers living with autism, acknowledged the festival's selection of her film, saying: "We were absolutely wrapped by the news. It's just fantastic to be able to launch at such a prestigious festival." [WWD]