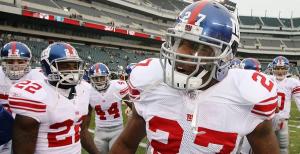 How ironic that on a night that Tiki Barber used halftime to revisit his stinging comments regarding Eli Manning's leadership last August, the Giants lost 22-10 in a game in which they needed him the most.
Barber was once the safety blanket for Manning, catching passes out of the backfield when the young quarterback couldn't find a receiver downfield. He was able to turn a small catch after a checkdown into a big gain. When he retired after the 2006 season, critics wondered who could replace the nimble, versatile back.
Brandon Jacobs was presented as the heir apparent. While he's filled that role as a runner, getting first downs, pounding through the line and using that surprising speed to cut down the sideline and around the corner (as evidenced by his 25 carries for 130 yards), he proved in the disappointing loss to the Redskins yesterday that he has hands of stone.
The third-year back dropped eight of the 10 passes Manning threw his way. Even one that he did catch to the left early in the fourth quarter was juggled and nearly fell on the turf before Jacobs accelerated to gain nine yards. Without an injured Derrick Ward, the closest thing New York has to a Tiki-like back in terms of short receptions, Manning has to look elsewhere for a contingency plan. Or, Jacobs must take a week of practice to take a crash course in pass catching.
But the Giants' troubles on offense go beyond backs failing to catch passes. As Barber pointed out, he wasn't in the locker room this year and didn't know who was the leader. And that's exactly what the Giants lack on offense: an emotional veteran who can rally the troops. The defense has Michael Strahan and Antonio Pierce directing them on and off the field. While Manning has shown the ability to play well in the clutch, the offense doesn't have someone who can rally and make the whole team dig deep, especially now that it appears that Jeremy Shockey (broken fibula) will miss the rest of the season. Barber had that ability without saying it aloud, playing through injury and asking to shoulder the load when the team needed it.
The Giants are at 9-5, but have barely squeaked by mediocre teams, and have looked asleep at home. With two critical but tough games upcoming before the playoffs, someone has to step forward and wake this offense up.