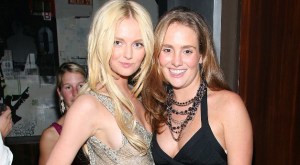 Those kooky new Trojan condom commercials on TV, which magically turn a dirty hog into a beddable dude after he picks up a condom, may work for some people—like, for example, the frat boys who regularly recognize Gossip Girl's Blake Lively on the street. But when it's time to recruit a more well-heeled consumer to the joys of Trojans, Gillian Hearst-Shaw is the lady for the job.
"Before I was married, I was very picky and selective about who I chose to get intimate with," she told The Daily Transom at a recent dinner party benefiting ACRIA, an AIDS charity.
And though the great granddaughter of media mogul William Randolph Hearst was lucky enough to be born with a silver spoon in her mouth, Ms. Hearst-Shaw, like her sister, Lydia, knows the value of a decent bag.
"I always used condoms," she said. "At first, I'll admit, I was embarrassed going and buying condoms. But then I kind of … you get over it. And I went for the full-spermicidal, lubricated nonoxynol-nines!"
"I mean, it's not worth it. What's the point?" she asked, looking lovely in a Diane von Furstenberg dress. "It's better safe than sorry."
Have young, wealthy New Yorkers started to forget about the terrifying H.I.V. epidemic that remained at the forefront of New York's young people just 20 years ago?
Ms. Hearst-Shaw nodded with a pleasant, knowing smile.
"You just never know—you see a cute person at a bar and you bring them home. And it might not be that they know and just didn't tell you; it might just be that they just don't know either, which is the frightening part."