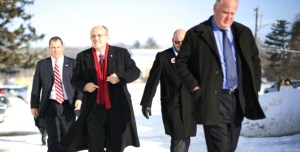 Rudy Giuliani's campaign is both soliciting donations from supporters and still trying to make the case that they were right not to compete in Iowa, and to compete only half-heartedly in New Hampshire, even though the former mayor has effectively been dropped from the national political discussion in recent weeks.
Here is the fund-raising letter that campaign manager Michael DuHaime sent out this morning, in which he uses the now-familiar reasoning that Rudy will be fine as long as he wins in Florida, New York and New Jersey.
Whether those states will take him seriously without a good showing in a single early primary is another story.
Email in full:
Dear xxxx,
With only 3 days left until the first votes are cast in Iowa, and 8 days before the New Hampshire Primary, Rudy needs your help today! Click here to give Rudy the support he needs to win the nomination.
Like Rudy, this campaign is tough and ready for the long haul. Please see below a memo from our Strategy Director Brent Seaborn that looks ahead to the next month and outlines why Rudy's plan to win the nomination is the right one. However, in order to go the distance, we need your help now.
Your gift of $10, $25, $50 or $100 will go a long way to helping Rudy win the GOP nomination and keeping the White House out of the hands of the Democrats in 2008.
Sincerely,
Michael DuHaime
Campaign Manager
Rudy Giuliani Presidential Committee
| | |
| --- | --- |
| TO: | TEAM RUDY |
| FROM: | BRENT SEABORN, STRATEGY DIRECTOR |
| RE: | Looking Good |
| DATE: | December 31, 2007 |
As voting nears in the Republican nomination process, our campaign remains convinced that our strategy we have long had in place is right – bold, innovative and designed to deal with the radically different election calendar. While many of the beltway insiders seem to remain committed to the old "Carter/Clinton" approach and have questioned the adjustments we have made to our strategic thinking based on the new calendar, we clearly have a winning plan to secure the nomination in an election cycle unlike any other. History will prove us right.
As we enter the final stages of the campaign we have seen a tightening in the national polling and the emergence of a real 5-way race for the Republican nomination. Mayor Giuliani has led virtually every national major media poll conducted in 2007. We are now at a point in the campaign where we are seeing increasing polling volatility as public attention turns to the horse races in individual states.
Important to our long term strategy, Mayor Giuliani has enjoyed a commanding lead in nearly every public poll conducted in the delegate rich states of Florida, California, Illinois, New York and New Jersey.
2007 November – December Public Polling Averages Mayor Giuliani and Closest Opponent in state polling

State

Mayor Giuliani Average

Closest Opponent Average

Florida

30%

17%

California

29%

15%

New Jersey

38%

12%

New York

40%

12%
The Primary Calendar
2008 will be unlike any recent Republican nomination process. What typically has been a primary process that stretched into March or April has been accelerated and compacted into a 33 day sprint.
Our rivals seemingly have built campaigns based on the old calendars' strategies — a couple of very early state wins to propel them deeper in to the nomination process. To the contrary, our plan allocates time and resources to the many states which vote a bit later — on January 29 (Florida) and February 5.
For the record, only 78 delegates will be picked prior to Florida whereas 1,039 delegates will be picked on January 29 and February 5. Additionally, it is important to note that voting HAS ALREADY STARTED in Florida, Missouri, Georgia, Illinois, New Jersey and New York – tens of thousands of people will have already cast their ballot by the time you are reading this note. And more February 5th states, including California will begin early and absentee voting soon. All of this points to the folly of over-estimating the impact of the results of Iowa and New Hampshire and the wisdom of our strategy.
Putting a high priority on spending our time and money in a proportional basis in Florida and the large delegate states voting on February 5th is clearly the right thing to do.
The Early States
The pre-February 5th states are Iowa, Wyoming, New Hampshire, Michigan, Nevada, South Carolina, Florida and Maine. Delegates are at stake in just five states before February 5. Wyoming will select a portion of its delegates at their caucus in January, but will not allocate all of their delegates until later in the year. Iowa, Nevada and Maine award NO delegates at this time. Florida is the big prize on January 29, with 57 winner-take-all delegates – the only winner-take-all state before February 5th.
Pre February 5th Contests

Date

State

Estimated Delegates after RNC Penalty

1/3

Iowa

0*

1/5

Wyoming

12

1/8

New Hampshire

12

1/15

Michigan

30

1/19

Nevada

0*

1/19

South Carolina

24

1/29

Florida

57

2/1

Maine

0*
Because states selecting delegates before February 5th are in violation of Republican National Committee rules, those states have been penalized half of their normal delegates; Iowa, Nevada, and Maine do not select any delegates at their caucuses, but rather at state party conventions in late spring. The states before February 5th will allocate delegates to multiple candidates under varying state election laws and state party rules. Thus, it is highly unlikely that any single candidate will win all of any one state's delegates except Florida's, which will be winner-take-all.
Florida accounts for more than 40% of all delegates allocated before February 5th and has almost twice as many delegates as the next largest state. It is therefore easy and correct to conclude that in a multiple candidate race, whichever candidate wins Florida, with their winner-take-all delegates, will very likely have a delegate lead going into February 5th.
February 5th
On February 5th, 982 delegates will be in play. Most importantly, a bloc of 201 winner-take-all delegates will be at stake in New York, New Jersey, Connecticut, and Delaware, all states in which Mayor Giuliani has double digit leads. Aside from the huge northeast delegate prize, Missouri will award 58 winner-take-all delegates, and Senator Kit Bond's endorsement gives our organization a great statewide network there. Also on February 5th, large states such as California, Georgia and Illinois will award most of their delegates by Congressional District vote. It is for this reason that Mayor Giuliani has spent a great deal of time in each of those states and has always polled well in them.
Path to Victory
If Mayor Giuliani wins even a minority share of the 78 delegates from pre Florida states, wins Florida's 57 delegates, wins the 201 available in New York, New Jersey, Connecticut and Delaware, and wins only a plurality of delegates from large February 5th states like California, Georgia and Illinois, he will have a commanding lead in delegates for the nomination with more than half of the delegates selected.
State Polling and Outlooks
As noted above, polling has been and will continue to be dynamic and incredibly volatile. In Iowa for instance -just in December- we have seen polls placing the Mayor's support from as high as 3rd to as low as 6th place. Senator McCain caucus support has ranged from a high of 20% to a low of 5%. And polling over the Christmas and New Year holidays will not be any less fickle.
In Iowa, one could anticipate that Mayor Giuliani might finish outside of the top 3. Governors Huckabee and Romney are battling it out for first, Senator Thompson is spending a lot of time in the state over the closing days of the campaign and Senator McCain received a recent boost from the endorsement of the Des Moines Register. While placement in Iowa will be a focus of the media, it should be remembered that Senator McCain came in 5th place in Iowa (behind Bauer and Keyes) before winning New Hampshire.
The most covered story out of Iowa will likely be the Democratic race, but on the Republican side, the Huckabee/Romney race will be very interesting. The Romney campaign has invested millions of dollars and assembled a massive paid staff; some now question whether Mitt Romney's Iowa investment and organization will prevail over Mike Huckabee. While Governor Huckabee was climbing rapidly in polls before Christmas, he now seems to have plateaued. Governor Romney's strategy has long been based on winning the first few races to build momentum. Many believe the Romney organization (and a few million more dollars of get-out-the-vote money) will pull this one out for their campaign.
New Hampshire is only a few days after Iowa and voters there are notoriously late deciders on their presidential primary vote. New Hampshire will be very much in flux after Iowa. Governor Romney was governor of neighboring Massachusetts and Senator McCain won New Hampshire in 2000. In addition to Senator McCain's base of support, he has recently put together a series of high profile endorsements in the area to further reinvigorate his campaign. The unprecedented personal spending by Governor Romney should not be underestimated. It is apparent that he has put more than $40 million of his own money into this race.
Accurate polling in New Hampshire will be nearly impossible, with the holidays complicating it logistically and the Iowa news cycle dominating press and potentially disrupting the order of the race.
Although we should expect to see more polling from South Carolina, Michigan and the other early states, one should remember that because of the furious pace of the election calendar and the never ending news cycle, polling will be very difficult to conduct, have a very short shelf life and become even more unstable and unreliable. The polling picture will be further blurred with the range of new polling methodologies that are being tested, ranging from robotic calling to internet polling.
Thus, we should all be ready for a barrage of state and national polls in January with seemingly contradictory results — some of it good news, much of it related to early January states as bad news. We should all have confidence in the strong organizations and also in the strong bases of support in Florida and other February 5th states which will endure the ups and downs of January.
Also, by the time we get to Florida, the field of candidates and the race will look remarkably different than it does right now. Florida will be the important battleground not only for our campaign but for the race itself.
Polling in Florida has been stable all year. For most of the second half of 2007, the support for Mayor Giuliani has averaged 33 or 34%. Virtually every other candidate in the race has polled in second place to us at one point or another over the year. We have remained on top in Florida. As in all races, expect to see signs of tightening in Florida as Election Day approaches, but also expect us to consolidate more support as candidates drop out of the race. We are very proud of our Florida organization, which, like all of our state organizations, is prepared for the long, hard fight to win.
One should conclude, as voting nears, that our campaign is focused on the right prize – winning enough delegates to secure the Republican nomination. Our national campaign is the right strategy for getting it done.