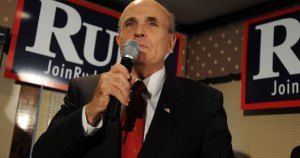 What was Rudy Giuliani thinking when he decided not to contest the primary all-out in New Hampshire?
That's a question a lot of political observers, and some of Giuliani's own New Hampshire supporters, have been asking lately as the former mayor slides steadily off the national media's radar.
The Giuliani campaign has said that it is a media misperception that Giuliani hasn't been fully engaged in New Hampshire, even as he has spent a lot more time than the other candidates campaigning in February 5 states. (Yesterday, today and part of tomorrow, he's in Florida.) The Giuliani campaign also insists that the former mayor does not need early-voting-state victories because he is so popular in the delegate-rich states that come further down the road.
Now, Giuliani now has to watch the main primary contests essentially from the sidelines and hope that either Mike Huckabee can damage Mitt Romney in Iowa, or that John McCain can muddle the picture in New Hampshire. Even then, Giuliani will most likely have to compete in the February 5 states from the disadvantaged, inert position of a non-player in the early voting states.
Most of the experienced neutral observers I've talked to have been, to say the least, skeptical of the strategy. "He never had a chance in Iowa, because of the special nature of their electorate and this tiny caucus turnout, but there is no reason in the world why Rudy Giuliani could not have won New Hampshire," said Larry Sabato, a political science professor at the University of Virginia. "Giuliani completely miscalculated. He assumed that Romney could not be dislodged and both Huckabee and McCain have proven him wrong. If he had focused on New Hampshire and won New Hampshire, even come in second, his Florida Super Duper Tuesday strategy could have been vindicated."
Mark Blumenthal, the editor and publisher of Pollster.com, called the Giuliani campaign's decisions "somewhat mystifying decision."
"The story for the first week in January has been loser, and that's not a good story," he said.
And Blumenthal pointed out that there's lots more of it to come.
"If you are the winner, the coverage says your campaign was effective, and for the losers it's the reverse," he said, adding, "When you are out of the story it can't be good."