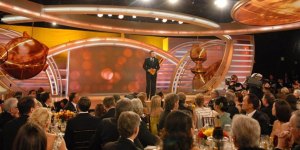 Panicked at the prospect of having to confront strikers as they walk up the red carpet, celebrities have sent what Hollywood publicity executives describe as a near-unanimous signal: If striking writers show up at the Golden Globes, the stars will not.
Jorge Camara, president of the Hollywood Foreign Press Association, reassured guests at its Christmas gala in Beverly Hills last Friday that the star power of the Globes, the organization's annual awards ceremony, would not be dimmed, according to several publicity executives who attended.
But Thursday, Jeff Hermanson, strike coordinator for the Writers Guild of America West and the Writers Guild of America East, still promised a showdown on the sidewalks around the Beverly Hilton Hotel, where the Globes ceremony is set to be produced by Dick Clark Productions and broadcast by NBC on Jan. 13.
Mr. Hermanson said in one of several interviews this week, "If the Globes is telecast and it is produced by Dick Clark Productions, which is a struck company, we will picket the show."