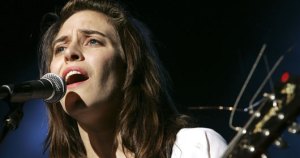 Every year, the music nerd community does a massive eye roll when the Grammy nominations are announced. Sitting on their high bar stools, they thumb their noses and whine that all of their favorite, totally obscure, "indie" artists will never get the recognition they deserve. Even if those artists do make the list, they complain, they'll lose out to whichever act has the most radio play, the best PR people, or maybe the nicest ass.
This year is no different: How is Feist a "Best New Artist" when she released her debut solo album Monarch (Lay Your Jewelled Head Down) in 1999? What the hell does an "Best Urban/Alternative Performance" even mean? How did the Soulja Boy dance become a nomination for best rap song? And even though we adore her and her giant booty, there is no way Beyonce's "Irreplaceable" belongs on the "Record of the Year" list.
Shrug. What can you do?
The Village Voice's Tom Breihan commiserates:
That nomination-day feeling isn't outrage, exactly; every music dork in the world has an ideal Grammy-nomination list in mind, and the actual nominations never look anything like those fantasy lists. It's more confusion. Are there really people out there who not only made it through Vince Gill's massive four-disc album These Days but who actually consider it to be the Album of the Year? Is Amy Winehouse really the cultural juggernaut this list makes her look like? How have I never even heard of one of the Best New Artist nominees? For one day every December, it's like I've stumbled into some alternate pop universe where everything is upside down and nothing makes sense. I'm not saying I necessarily know more about pop music than the industry insiders who pick the nominees; after all, I've never heard of Best New Artist nominee Ledisi, and they, evidently, have. But the logic behind so many of these choices just baffles me.