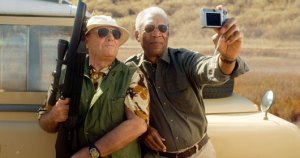 THE BUCKET LIST
Running Time 97 minutes
Written by Justin Zackham
Directed by Rob Reiner
Starring Jack Nicholson, Morgan Freeman and Sean Hayes
So many movies, so little time (to see them), and so little space (to write about them all). It's the time of year when critics with pens and Visine look, absorb, take notes in the dark and make lists. It's also the time to hope for a few last-minute, year-end miracles. I've seen only a handful: The Kite Runner, the heartfelt and deeply moving import from Afghanistan about guilt, redemption and forgiveness that bridges two cultures and unites two worlds in peace through the art of flying kites; the British triumph Atonement; and the outstanding work of art Tim Burton has fashioned from Stephen Sondheim's musical masterpiece Sweeney Todd. (More about that next week.) The rest of the dross has convinced me that 2007 will go down the drain as one of the worst years in movie history. Herewith, notes on a few of the holiday releases:
A "bucket list" is a list you make when you're about to kick the bucket, and The Bucket List is the title of a cute, self-conscious and quite desperate little film by Rob Reiner about two old cancer patients who make more out of their "last days on earth than most people carve out of a lifetime." (That's a quote from the kind of screenplay, by Justin Zackham, that sounds like a series of Hallmark cards written by teenagers on crack.) Edward Cole (Jack Nicholson) is a billionaire with a brain tumor who ends up as a patient in a hospital he owns. Reluctantly, he is forced to share a room with Carter Chambers (Morgan Freeman), a blue-collar mechanic and walking Wikipedia of facts who annoys his roommate by answering all of the clues on Jeopardy aloud before Alex Trebek can ask the questions. Cole cusses and bellows, Chambers speaks softly in philosophical metaphors, and somehow (not always convincingly), after enduring torturous surgeries and sharing rounds of debilitating chemotherapy, the odd couple bonds. This mismatched pair has only one thing in common: They've both got less than a year left. So instead of lying around in Christmas-plaid bathrobes praying for a cure while they turn into rotten potatoes, they decide to go out by growing new balls. With Carter's indomitable spirit and Cole's bottomless supply of cash and private jet as their coach, they hit the road, accompanied by Will & Grace's wisecracking Sean Hayes, wasted as Cole's executive secretary, to explore the unknown before turning into pumpkins.
Skydiving. Getting a tattoo. Dinner in the south of France. Racing Mustang Cobras. Chasing the wildlife on an African safari. Visiting the Pyramids of Egypt. Absorbing the wonders of the Taj Mahal. Cruising across the Great Wall of China on a motorcycle. The postcard views are admittedly breathtaking (all digital of course; the two stars never leave Burbank). The budget skyrockets and so do the old geezers, arguing and debating about the secrets of each wonder of the world and discovering a few secrets about each other. But all good things come to an end, and so does one of the leads. Only a cad would tell you which one. All that matters is that they bring each other some of the joy they've been missing in life, and for part of the time, the joy rubs off on the audience. How sorry I am to tell you it's just not enough.
Nothing really happens in The Bucket List to sustain more than surface interest, and Mr. Reiner never finds the key to expanding their experiences into anything beyond cardboard. But Mr. Nicholson, raunchy and mischievous, and Mr. Freeman, distinguished and gentlemanly, are such polished pros they practically direct the movie themselves. "There are three things an old man should never do," says Mr. Nicholson with his eyes at a devilish half-mast—"skip a bathroom, waste a hard-on or trust a fart." They hold the spot; too bad they didn't also write the script. As good as they are (and they sure know how to hold a camera captive), these are two likable actors in search of a pair of believable roles. For a couple of senior grandpas on their last bounce, the rigors of old age have never seemed less challenging. The Bucket List is a messy free-for-all, but it's a genuine pleasure to watch two hired hands literally running the rodeo.