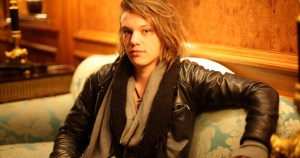 On Monday, Dec. 3, Sweeney Todd: The Demon Barber of Fleet Street premiered at the Ziegfeld Theater. The film, which opens on Dec. 21, is a gloriously dark marriage of Tim Burton imagery and Stephen Sondheim music that those in the know are declaring to be the film of the year. Star Johnny Depp was there, distinguished-looking in glasses, a smart suit and bright red tie, as well as Mr. Burton and Mr. Sondheim, co-stars Alan Rickman and Sacha Baron Cohen, and even—hey now!—Keith Richards. So too was 19-year-old Jamie Campbell Bower, who has made his film debut playing the pivotal part of Anthony Hope, a young romantic (and one of the very few characters with purely good intentions). Apparently, this didn't hold much sway with the press and fans thronged along the red carpet. "They were all like, Who is he? What is he doing here?" laughed Mr. Bower, over breakfast at BLT Market in the Ritz-Carlton a few days later. "It was kind of embarrassing."
Mr. Bower was wearing faded jeans, a leather jacket and lots of jewelry. Rings adorned the fingers showing through his gray fingerless gloves (with black nail polish on a couple of the nails) and he had on multiple necklaces (including a silver skull and bones, which he said was his ode to Mr. Depp's Pirates of the Caribbean) that he played with throughout the meal. His blond hair is long and tousled—part glam rocker, part someone who's recently spent a lot of time with Tim Burton—and surrounds a beautiful, almost too pretty face with sparkling kitten-shaped eyes (boasting just a hint of eyeliner) and pillowy lips. But his personality is all giddy schoolboy and sweetness, full of wild hand gestures and facial expressions. He's at that delicate moment in his career where he's completed a big (big) movie without any of the rewards or baggage that come with stardom. So, he's able to speak rather freely about things, from his lack of money ("People don't get it, they think I'm rich. I'm not! I have no money") to Paramount helping him fly out his girlfriend, Zoe, who was waiting upstairs in the hotel room ("The first time I came here I was so lonely").
Mr. Bower was raised in London, and attended Bedales, a boarding school in the English countryside, where he first began taking singing lessons when he was 8 years old (he left before his last semester to work on the movie). His first role was playing the French Mouse in a production of Alice in Wonderland. "I think I always sort of had the calling," he said, biting enthusiastically into a bagel with smoked salmon and cream cheese. He thought for a moment, then added quickly, "That sounds so fucking generic and cheesy, but it's true! I always had the idea that I wanted to perform. I love being the center of attention—and I always love talking about myself." Aside from local theater and the National Youth Music Theater, he didn't have a lot on his résumé when he talked to a friend, the West End actress Laura Michelle Kelly (who was also cast in Sweeney Todd) about whether he should attend drama school after graduation. She put him in touch with her agent, who in turn told him about the auditions for Sweeney Todd. He went in and sang and read for Tim Burton. Four days later he got the call. "I think I wee'd myself," Mr. Bower said. "I was out shopping at the time and I got this call on my mobile. I was just like"—his voice raised a couple of octaves—"OH MY GOD! Honestly, I was like a little girl running around this shop like oh-my-god-oh-my-god-oh-my-god."
Showing up for work with the star-studded cast was another matter. "It was terrifying," he said. The singing came before production, and the entire cast had assembled at a northern London recording studio where Mr. Bower was greeted with his new, surreal reality: Tim Burton, Johnny Depp, Stephen Sondheim, Helena Bonham Carter, the heads of Warner Bros. and DreamWorks, and an 85-piece orchestra. "I didn't perform very well that day," he said. "It was very daunting. In fact, I think I was the worst." Was he just being overly critical? "Uh, noooo," he said. "I'm self-deprecating and all, but no … I was the worst." (A later, much smaller recording session was a big improvement, he said.)
SWEENEY TODD MARKS Mr. Burton's sixth collaboration with Mr. Depp (who knew many of the crew members, who had also worked with him on the Pirates of the Caribbean films); Ms. Bonham Carter, meanwhile, was in the midst of an even bigger collaboration with the director: pregnant with their second child. "It was a bit like being at a dinner party where you knew nobody but you kind of laugh along with the jokes you don't understand," Mr. Bower said, making sure to stress how welcoming the cast was to him. "Seeing Tim and Johnny work together is very special. They have almost their own language … like when you have your best friend and you know what they're going to say before they say it. So they can get one word out before bursting into laughter. Which is funny sometimes and other times you're like, God, I wish I knew what was going on. It's like, you lost me when you said 'the' at the beginning of the sentence."
Mr. Burton, famously introverted, was a director Mr. Bower found easy to work with. "He's almost got a form of dyslexia where it's difficult for him to say what he's thinking—but you can see him working it out in his mind. I've got a mild form of dyslexia myself. I think I understood what he was trying to say—that was helpful, actually, one dyslexic to another." (Maybe not so introverted was Mr. Baron Cohen, who shared a makeup artist with Mr. Bower. "He was constantly baiting the makeup girl," he said. "Hilarious.")
Mr. Bower recently completed work on the Guy Richie film RocknRolla, co-starring Jeremy Piven and Ludacris, and a BBC program called The Dinner Party. "I'm going to cry until I get another job," he said. "I want to do more movies. I feel like it's a totally different skill set than there is to theater. It's much more internal. I'm an extrovert, I like to gesticulate and talk loud and stuff, and the theater is easy for me. I can go up there and spread my legs and go, 'Here I am.' Oh, don't get that wrong," he laughed. "Whereas in cinema you have to be much more thoughtful, and I find that a lot more challenging."
The concept of fame is still laughable and simultaneously overwhelming to Mr. Bower. After a screening in London, Paul McCartney congratulated him on his performance ("I was all, you're congratulating me?") but Mr. Bower said that only one person has ever recognized him on the street: a man the day before who approached him in FAO Schwarz. At the premiere after-party, he said, he was jostled out of the way by people swarming Mr. Depp. "He was smiling and being good about it, but I felt sorry for him," he said. "People don't understand he's not a superhero—he's just this great guy. I don't think it will happen [to me] soon, or happen at all. I'm just on the train for the ride."
Although one can't be too sure… Minutes later, while exiting the hotel, a paparazzo jumped out, camera in hand, and yelled Mr. Bower's name. After politely pausing for a click or two, the young actor's face flushed scarlet. "That's two," he said softly.