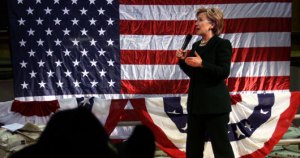 The dreary work of campaign field operations—knocking on doors, chatting up old people and cold calling for a candidate—is often carried out by eager college students wanting to make their first inroads into politics.
That was not the case on Ridgewood Street in Ames on Dec. 15, when some of Hillary Clinton's richest and most influential bundlers and donors—Hassan and Sheila Nemazee, Alan and Susan Patricof, and the former ambassador to Norway, Robin Duke—braved the icy elements and doorman-less ingresses of Iowa to proselytize for their good friend Hillary.
"Number-one convert!" shouted Mr. Nemazee, a multimillionaire investment banker who served as John Kerry's New York finance chair in 2004. "I moved them from an Edwards to a Hillary."
Mr. Nemazee, wearing iron-creased jeans, comfortable brown shoes, a blue winter coat and a red baseball cap emblazoned with a Ferrari stallion, was stepping cautiously along an ice-paved walk.
Across the street, Ms. Duke worked the even-numbered houses and was having a tougher time of it.
"Yoo-hoooo. Is anybody home?" she said as she pushed a screen door open and let herself through the sun porch of 728 Ridgewood. She peeked in the darkened window. "They're all out Christmas shopping. Oh, wait. Oh, how do you do there?"
A woman with a suspicious look answered the door as the 84-year-old ambassador, dressed in an overcoat, checkered green pantsuit and green bowler hat rimmed with fine feathers, introduced herself, confidingly, as a friend of Mrs. Clinton. "I came all the way from New York and I know her and I can tell you she is so qualified," said Ms. Duke, pushing some campaign literature into the reluctant woman's arms.
The woman shook her head and curtly explained that she was with John Edwards. Ms. Duke graciously wished her a pleasant day and admired the roller skates hanging from her front door. "Well, I didn't make a convert there," she said after the door closed.
She paused at the edge of the driveway to express worry that, without a campaign clipboard to tell her which doors to knock on, she might waste time on Republicans or people her donor friends had already bothered. "I don't want to be repetitive," she said.
Surrounded by snow-plastered trees and houses and lawns and cars, she gingerly made her way on the sidewalk to the next house. "At least they have the crunchy stuff," she said.
Back across the street, Mr. Nemazee had his own issues with the ice.
"I'm going to break my neck!" he screamed. "Where did Sheila go?" He meant his wife, who had the clipboards with the lists of voters most likely to support Mrs. Clinton. "I can't find her."
A few moments later, Ms. Nemazee, an attractive, amiable woman in a wool hat, walked out of a house with a clipboard.
"Sheila. Eight Fifteen. Nobody home," her husband called out upon seeing her (815 had an Obama lawn sign sticking out of the snow).
Sniffling in the cold, Mr. Nemazee rang the doorbell at 817. An elderly woman with short hair came to the door.
"I've come on behalf of Hillary Clinton," Mr. Nemazee said, pleasantly. "I'm blessed, because I know many of these people running personally. May I ask you who you are supporting?"
The woman said Bill Richardson was her first choice, because of his experience, and after that she like John Edwards. Mr. Nemazee asked if she planned to caucus.
"Yes," she said, "it's a very nice neighborhood event."
Mr. Nemazee then asked her to consider supporting Mrs. Clinton if the other two candidates proved unviable. "You know," said the woman, "I'm very fond of her, I'm not against her."
Mr. Nemazee rewarded her with a Hillary campaign button. The young man who answered the next door had less interest in taking a button. "I'd be disowned for it," he said.
Down the street, Susan Patricof waved hello. She wore a big coat and brown corduroys.
As the Nemazees and Ms. Duke came to greet her, Alan Patricof, the New York venture capitalist who founded a $20 billion private equity firm, appeared wearing jeans, brown hiking boots, a striped wool hat and a blue Hillary sticker on his gray Phat Farm coat. (The label's founder, hip-hop impresario Russell Simmons, has called Mr. Patricof his "godfather.")
"Susan's the best," Mr. Patricof told the Nemazees and Ms. Duke. "She was invited in for eggnog."
After a brief chat, Mr. Patricof got back to business. On the walk up to the stoop of 1013, he said it was a tribute to Mrs. Clinton's strength as a candidate "that five people from New York came out to walk the streets of Ames, Iowa, in 13-degree weather."