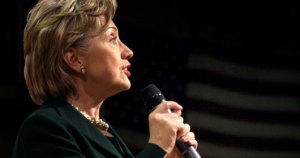 DUNLAP, IOWA, Dec. 16—Hillary Clinton badly needed to change the narrative.
She kicked off a five-day sweep through Iowa yesterday by rolling out a new, more personal stump speech, pushing her freshly acquired endorsement by The Des Moines Register and introducing a campaign helicopter.
She is, she said, "pumped up."
She started the day in Council Bluffs, on the western border of the state, and at a local high school officially announced the endorsement of former governor and senator Bob Kerrey. Kerrey, who is now the president of the New School in New York, told the roughly 250 voters in the high school that he was endorsing Clinton "enthusiastically and unequivocally."
"She inspires my confidence," he added. "The question is, does she inspire your confidence?"
When Mrs. Clinton took to the podium, she said that she was "energized and picking up the momentum."
Noting the Register's endorsement, she said, "It was an important event in this process and I am very grateful that they zeroed in on the work that needs to be done by the next president, by my vision of our country, my plans for change and my will to lead."
Later, she added, that she "could not be more pumped up."
She also developed the theme that she is the campaign's hardest worker, which she first touched on during Thursday's debate, contrasting her approach to change with that of John Edwards and Barack Obama.
"It all comes down to one question," Mrs. Clinton said at the high school. "Who is ready and able to make the changes we need, starting on day one, at the White House?"
"Well, some people believe you make change by demanding it. Some people you make change by hoping for it. I believe you make change by working hard for it."
Mrs. Clinton's theme, with half a month until the Iowa caucuses, is Hard Work. And judging from a speech she gave in Dunlap later in the afternoon, it is one she feels very comfortable with, and it has allowed her to work more personal material into her stump presentation.
The result, later in the day in Dunlap, was what many reporters here considered one of the strongest performances so far on the trail.
After disembarking from what her campaign is calling the "Hillicopter," Mrs. Clinton mounted a stage built around a pen used for auctioning livestock, and covered with bunting and bags that said "Beef: a Steak in the Future." The smell of livestock was overpowering.
It could have been awkward, but to Mrs. Clinton's credit, she played right along.
"I've been to cattle barns before and sales before, in Arkansas, but I've never felt like I was the one that was being bid on," Clinton told the crowd in the auction barn, many of whom wore cowboy hats. "I know you're going to inspect me. You can look inside my mouth if you want. I hope by the end of my time with you I can make the case for my candidacy and to ask you to consider caucusing for me."
She proceeded to deliver a speech which sought to make the argument that she had been working for and accomplishing change throughout her career.
She spoke about the challenges her mother faced as an abandoned child and the tough love her father favored by talking about the way he'd shut off the heat at 10 p.m. in the dead of winter to save money on electric bills. To talk about health care, she recalled a family doctor and to make the point that she was an agent of change, she spoke about her role in getting disabled children the right to go to school, her efforts to expand health insurance for children, her speech championing women's right in Beijing, her bipartisan approach in the Senate. ("And then I went to work across the aisle," she explained.)
She also used a more personal and sentimental line of attack in contrasting her health care plan with Barack Obama's, which her campaign says is not universal because it does not mandate health insurance coverage.
"Who would I leave out? Who would get to decide?" Mrs. Clinton asked, going on to describe hard-working Iowans she has met who couldn't afford insurance and then, touching her chest, a woman who couldn't pay for treatments for breast cancer.
After the speech, the press bus raced to a nearby field for the first photo opportunity of the campaign's new chopper, which Mrs. Clinton is ostensibly using to avoid the icy roads and reach more small towns on her 99 county tour. (Even so, most towns will be visited by Clinton surrogates only, and most of Mrs. Clinton's transportation will be of the ground variety. "Hill on earth!" one reporter joked.)
The photo-op, for which some reporters waited for two hours in the bone-chilling cold, consisted of Mrs. Clinton sticking her head out of the copter and screaming, "Bye, guys."
The press cheered at the rare acknowledgment of their existence, and she pumped her fist. As the helicopter took off, some of the reporters began humming Flight of the Valkyries.