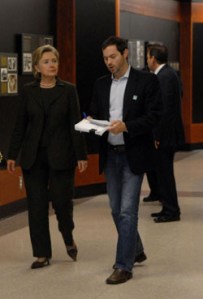 Leonardo DiCaprio and George Clooney are developing a movie reportedly based on Howard Dean's failed presidential campaign.
"It's about a young, brash press secretary," explained Jay Carson, the young and brash former press secretary of the Dean campaign.
Mr. Carson, Bill Clinton's former communications director and now Hillary Clinton's increasingly visible traveling press secretary, denies the movie is based on him—"Leo is way too good-looking to play me," he said—but among the nation's community of stressed-out, monitor-tanned Democratic press aides, he's about the closest thing there is to a glamour boy.
Certainly, that was part of the appeal for the Clinton campaign when they cast him in his current role as the presentable, approachable messenger in a press operation best known for its naked aggressiveness.
Last month, after Mrs. Clinton trounced her opponents during a debate in Las Vegas, he walked—all smiles—into a union hall and told reporters that Barack Obama had shown his inexperience by taking the bait on a Robert Novak column reporting that the Clinton campaign was had dirt on the Illinois senator.
"A Democratic candidate should be smart enough not to fall into a trap," said Mr. Carson, adding, "If you don't know how to do that in a primary, you are going to be in a world of hurt in the general."
In between the debate and the union meeting, the 30-year-old sat down for dinner and a few glasses of wine at the strip's Mandalay Bay hotel. He spoke about his experiences working on the presidential campaigns of Bill Bradley and Howard Dean and as national spokesman for the former Senate Minority Leader Tom Daschle. He described how Mrs. Clinton "reads all her clips" and earned his fealty back in 2000, by making an unprompted call to boost the spirits of his sister, who was going through a bout of depression.
As he did during most of his downtime in Vegas, Mr. Carson wore slim jeans, a fitted striped sweater, a trim beard and black high-top Converse All Stars that, according to his close friend Beau Willimon, he spent 30 minutes scuffing in the dirt after purchasing to achieve a more authentically "punkified" look. (Mr. Willimon, another veteran of the Dean campaign, also happens to be the author of the play Farragut North, upon which the DiCaprio-Clooney political thriller is based. He said that Mr. Carson helped come up with the play's title, but asserts the main character is entirely fictional.)
Mr. Carson, who spends most of his time now in vans and hotels, and reading about 200 pages of clips a day, cast himself as something of a rebel in the khaki world of Washington operatives. He spoke longingly of his airy loft in the Fairway Building in Red Hook, where he currently lives with his bright-eyed and fashionably trim fiancée, who works at Elle magazine. He said that when he picked her up at Prospect Park during a TV on the Radio concert that he attended with his mentor, Clinton communications director Howard Wolfson, "She thought I was an A-and-R guy."
Like three other core members of Mrs. Clinton's aggressive communications team—Mr. Wolfson, Phil Singer and Blake Zeff—Mr. Carson got his start working for Chuck Schumer. (Mr. Schumer must, at this point, be considered the Johnny Appleseed of Democratic press operatives.)
"It's a complementary group," Mr. Carson said, choosing to explain the temperamental difference between him and Mr. Wolfson in geographic terms. "Howard is a New Yorker, I'm from Georgia."
In an interview with The Observer, Dr. Dean—who is currently chairman of the Democratic National Committee—guessed that Mr. Carson was also added to complement the group constitutionally.
"He's smart enough to know that the best way to get his viewpoint across is not to go and hit everybody over the head with it," Dr. Dean said. "There are a lot of people in that group who are very, very aggressive. Jay is very laid-back."
He added, "My guess is that people seek him out for advice in that campaign."