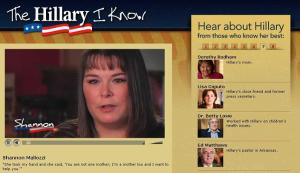 Hillary Clinton is a human being.
That may sound like an oddly obvious message for a presidential campaign, but for Clinton, who has faced six weeks of bad press coverage and 15 years of cartoonish characterizations from all across the political spectrum, it is an essential point that she is now emphasizing in an attempt to right the direction of her presidential bid with three weeks before the Iowa caucuses.
"Here in Iowa I want you to have some flavor of who I am, you know, outside of the television cameras when all the lights and cameras disappear," Clinton said softly, in an unprecedentedly personal speech in Johnston this morning to announce a new web site called TheHillaryIKnow.com. "What I do when nobody is listening, taking notes or recording. Because it's hard in public life to have that kind of sharing experience."
The web site features testimonials from friends of political supporters of Clinton, and this morning, standing in a barn in front of about 150 people and dozens of reports, Clinton was introduced by four of her friends, each of whom swore to Hillary's, well, humanity.
One old friend and former Clinton justice department appointee, Bonnie Campbell, called her a "human being who is so empathetic, so compassionate and so supportive of others." Jeff Volk, who survived the Sept. 11 attacks in New York and then got trapped in New Orleans during Katrina, said that when he went to thank Hillary for helping him, "I met one of the most caring kind compassionate individuals."
Shannon Mallozzi, a woman from Long Island, told about how Clinton personally ensured that her child, ill with a brain disease, receive proper treatment. "To be perfectly candid," she said, "my perception of her was probably a media conception of her – a bit remote." But then she talked about the Hillary she got to know – "Two moms sitting in a car talking about how to make life better for their children" — and said that Clinton told her, "I'm a mom too, but for the grace of God that I'm not sitting in your seat." She called Clinton an "incredibly compassionate, decent, caring, human being," and added, "We let the media tell us what is going on rather than finding out on our own."
The final speaker to introduce Clinton, Betsy Ebeling, became teary at the podium as she discussed her lifelong friendship with Clinton. "Friendships are the things that maintain you through good through bad," she said. "She is loyal to her friends, she remembers them she remembers their kids."
She told of how Clinton befriended her when she was new in school in the 6th grade and Clinton was "Captain of the crossing guards."
"That was Hillary," she said.
"Do all of you understand that she is a mom, she is a daughter?" she said, adding, "She is a great mom."
When Clinton took the microphone she assumed a humbled posture, spoke gently and said "thank you very much." She picked up on arguably an element from her old stump speech, that many people in America are "invisible," and said that her life's work has been "to try and help people who are doing the best they can, but life sometimes as a way of hitting you upside the head."
She then ventured into what is for her mostly uncharted territory, talking about her own experiences growing up: how, for example, she wore thick glasses in junior high and high school and how that made it tough for her to meet boys.
"We're not all the same in every setting we find ourselves, are we?" she said, arguing that people are composites of the many different faces "that all add up to the people we are."
The speech included criticism of an opponent, Barack Obama, although even that was couched in explicitly personal terms.
Picking up where she left off yesterday, Clinton said that when she first drafted her health care plan, some advisors told her it would be politically expedient not to include a mandate for universal coverage. Obama's plan does not have such a mandate.
"In other words you want me to leave out millions of people from my health care plan, so OK, who do we leave out?" she said. "Do we leave out Shannon's daughter. People say she has a deteriorating position. Maybe we should just leave her out."