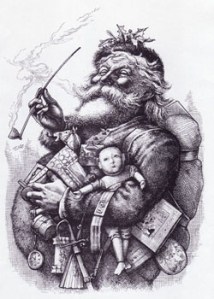 CHRISTMAS: A CANDID HISTORY
By Bruce David Forbes
University of California Press, 187 pages, $19.95
SANTA CLAUS: A BIOGRAPHY
By Gerry Bowler
McClelland & Stewart, 278 pages, $17.95
THE NATIVITY: HISTORY AND LEGEND
By Geza Vermes
Doubleday, 172 pages, $17.95
FAMILY GUY: PETER GRIFFIN'S GUIDE TO THE HOLIDAYS
By Danny Smith
Harper Paperback, 151 pages, $18.95
A FAMILY CHRISTMAS
By Caroline Kennedy
Hyperion, 332 pages, $26.95
THE LATKE WHO COULDN'T STOP SCREAMING: A CHRISTMAS STORY
By Lemony Snicket
McSweeney's, 43 pages, $9.95
Not being of the Christmas persuasion, I respond to Christmas books much as I do to DIY sex videos: with a perplexed grimace, uncertain what, exactly, you're supposed to do with them. Do you tuck yourself into bed with a Christmas book in June to remember the pleasures of Christmas past? Do you integrate the Christmas book into celebrations of Christmas present? Or is the Christmas book a resource for improving Christmas yet to come? In hopes of enlightenment, I plucked a few titles from the annual deluge.
Bruce David Forbes' Christmas: A Candid History and Gerry Bowler's Santa Claus: A Biography tell essentially the same story, except Mr. Forbes devotes a book to Christmas and a chapter to Santa, while Mr. Bowler reverses those proportions. Mr. Bowler also adds a tirade against "the Umbrage Industry," which came up with the "nasty idea" that Christmas is "a threat to social harmony," while Mr. Forbes more gently explores the challenges of "wrestling with Christmas."
Both Christmas mavens quote Libanius of Antioch on the fourth-century celebration of Kalends, a Christmas precursor during which "the impulse to spend seizes everyone" and "a stream of presents pours itself out on all sides." Both assemble an assortment of medieval St. Nicholas legends, including the miraculous rescue of three murdered students pickled in a barrel. Both point out that late-19th-century cartoonist Thomas Nast, who gave us our contemporary image of Santa—in particular the belt—also dreamed up the Republican elephant and Democratic donkey.
Esteemed Bible scholar Geza Vermes goes further back in The Nativity: History and Legend, an examination of what actually happened in Bethlehem on Dec. 25, 1 A.D. Turns out not much: Jesus was probably born in Nazareth, though we don't know for sure, and he was definitely born before the death of King Herod in 4 B.C., though we can't say exactly when. Turns out Matthew and Luke, whose Gospels briefly recount said birth, were highly influenced by culture and myth, and the Bible is a problematic historical source. Who knew?!
If Messrs. Forbes, Bowler and Vermes reveal that Christmas is the synthesis of pagan ritual, religious and political mythmaking, and capitalist commerce—and has been for around 2,000 years—in Family Guy: Peter Griffin's Guide to the Holidays, we discover that even the edgiest of equal-opportunity offenders can't write a Christmas book without Saturnalia (the pre-Christmas of ancient Rome), Yule logs, Dickens and Santa's milk and cookies. But the Family Guy's rip-roaring descriptions of favorite Christmas songs and TV specials are more entertaining than the lists of movies and music in Santa Claus: A Biography. Who wouldn't prefer KISS Saves Santa and the Young Adults rocking "Christmas in Japan in July" to yet another rerun of Miracle on 34th Street and Mel Tormé warbling "Chestnuts Roasting on an Open Fire"?
With more of the same, and a lot more of everything, comes Caroline Kennedy's anthology, A Family Christmas. It's got "Twas the night before Christmas," "Is there a Santa Claus? (Yes, Virginia)" and lyrics for all the carols, spiced up (like a good eggnog) with Garrison Keillor, David Sedaris and, wait a minute, is that Run DMC? Caroline goes wild!
So what does one do with these books? If I were the Christmassy type, I suppose I'd give them away on Dec. 25. There's one I'd keep, though: Lemony Snicket's The Latke Who Couldn't Stop Screaming: A Christmas Story, featuring trees, lights, candy canes and a runaway potato pancake. Chaos, sour cream and lots of pictures? That's my kind of holiday.
Rebecca Steinitz is a writer who lives in Arlington, Mass. She can be reached at books@observer.com.