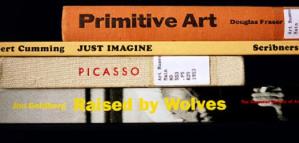 The publishing industry's at a crawl today, with all but two of the major houses officially closed for the holidays and just about every e-mail bouncing back with an "out of office" reply. Even at HarperCollins and Simon & Schuster, which are officially open for business, sources say very few people actually came into work. Industry newsletter Publisher's Marketplace isn't updating, Ron Hogan over at GalleyCat has resorted to posting book-related LOLcats, and Media Mob… Media Mob is going to draw your attention to a neat art project this lady has been doing since 1993 where she arranges books on a shelf in a funny order!
It's actually kind of wonderful, in that Boing Boing sort of way: the basic idea is that Nina Katchadourian goes to different libraries and finds books whose titles she can use to make sentences/stories. For example, A Day at the Beach by Robert Grenier sits atop The Bathers by Lorenzo Thomas, which in turn is followed by three isues of the journal Shark, Greg Jones' Sudden Violence, and John Cage's Silence.
There are hundreds like this.