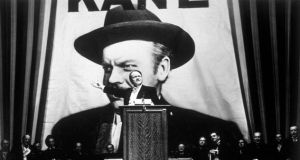 Maybe there's not one word that can explain a man's life, but 156 pages of them will cost ya about $100,000. At least, that's what Orson Welles' personal working script of Citizen Kane went for last night at a Sotheby's auction. An anonymous phone bidder nabbed the final revised draft (before the final shooting script was scribed) for $97,000. But the Oscar for the film was withdrawn from the bidding block when the Scrooges wouldn't even caught up a measely $800,000 (the statuette's minimum bid).
Sotheby's auction house said it immediately received inquiries about the Oscar and may consider selling it privately. The Academy Award for best screenplay had been estimated to fetch $800,000 to $1.2 million.
The Oscar for "Citizen Kane," considered one of the greatest movies of all time, was believed to have been lost by Welles himself. It resurfaced in 1994 and was eventually acquired by the Dax Foundation, a Los Angeles-based charity. Proceeds from Tuesday's sale had been earmarked for the organization.