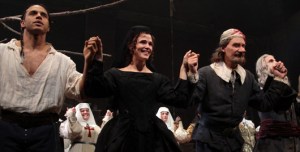 On Dec. 8, 2007, a single performance of Cyrano de Bergerac at the Richard Rogers Theater smashed the record for the highest gross of a play or musical in one night, totalling $153,880. Just a month later, on Jan. 6, Edmond Rostand's 1897 timeless romance will close its curtains. The star-studded production, including Kevin Kline, as the big-schnozed Cyrano, and Jennifer Garner, as hard-to-get Roxane, began previews on Oct. 11 and opened on Nov. 1.
Cyrano de Bergerac was consistently one of the top ten grossing shows on Broadway during its limited run and grossed over $900,000 every (full performance) week post opening. It grossed over $500,000 during the first and last week of the 2007 Broadway strike while only playing 5 performances.
This broke the record set over the Thanksgiving holiday in 2006, by Disney's Tarzan.