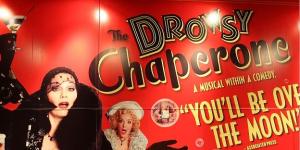 After five Tony Awards, 674 performances and 32 previews, the musical comedy The Drowsy Chaperone will close Dec. 30 at the Marquis Theatre. The show played to capacity audiences for a long time and moved into the profit column, but for the past six months the crowds had stopped coming. According to the Toronto Star, gimmick casting like placing Full House dad Bob Saget in the pivotal role of "Man In Chair" failed to catch on and its last week's attendance was 39.3 percent.
Producer Kevin McCollum said yesterday, "The show was pure joy and we were a hit. To have had both the artistic and financial success realized is the miracle of The Drowsy Chaperone."
Producer Roy Miller said, "We are grateful to everyone who took a chance on this completely original musical. To begin as a wedding gift 10 years ago and then emerge an award-winning Broadway hit is a tribute to our authors, creative team, cast, and the audiences who embraced The Drowsy Chaperone."