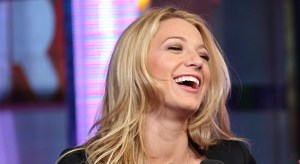 Gossip Girl star Blake Lively, who plays sassy social-dominatrix Serena van der Woodsen on the CW series, gets recognized on the street. Like, all the time. In a recent interview, the 20-year-old actress said she even gets shout-outs from "Guido-type guys, like frat boys." (Some people have all the luck.) But Ms. Lively assured the AP that she is very different from her character on the show. After all, as the Sisterhood of the Traveling Pants actress reminds us, she grew up "in a small town in California"—Burbank, to be precise. But Ms. Lively promised, too, that she and her on-screen persona aren't altogether apples and oranges, either; "We both giggle a lot. We look alike." Imagine the odds!
Highlights:
On being recognized:
One day these, like, thuggish guys were, like, coming out, rolling out of their Escalade and they go — they're like, 'Man, that's gossip girl!' And they were, like, freaking out. It was so strange how many people would just get giddy over it. And it's people that you would not expect at all.
On her real-life high-school days:
I went to high school [and] what we would do on our nights off [was] go to a school fundraiser, go to a football game, where these people have masquerade balls or go lounge at The Palace Hotel and sip martinis.
On the writers' strike:
Everybody needs to do what they need to do, so, you know, we just have to keep our fingers crossed that we'll be able to pay our rent soon. Everybody understands what's going on, and, so, there's nothing anybody else can do about it.