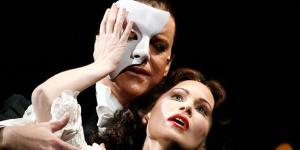 Jack O'Brien, the acclaimed director of the stage production of Hairspray and Coast of Utopia, is working with Andrew Lloyd Webber on his sequel to Phantom of the Opera in London. He has met with the composer a few times last week and both are struggling to finish the storyline that was originally penned by novelist Frederick Forsyth and then Lloyd Webber's close collaborator Ben Elton. According to London's Daily Mail, "his version didn't excite. Mr. Forsyth is now taking another shot at the much-anticipated follow-up.
Joining the Phantom 2 project would mean O'Brien working again with celebrated designer Bob Crowley, who designed Coast Of Utopia (the pair also worked on His Girl Friday at the National Theatre). Crowley has already signed on to create sets and costumes for Phantom 2.
From what I understand, the story would be set 15 years after the events of the first show, which is still running in London.
The Phantom has slipped away to New York and has set up a fairground world on Coney Island, along with Madame Giry and her daughter, Meg. He organises a concert in Manhattan for Christine, the object of his desire.
Christine travels to the U.S. with her husband Raoul and their teenage son, who happens to be a musical genius…just like the Phantom.