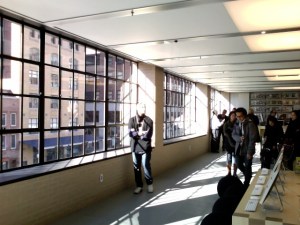 We dropped by the shiny new Apple store at 401 West 14th Street in the Meatpacking District today, the latest fiefdom in the company's growing retail empire.
The new store, which smelled a whole lot like a new car, sits in a spacious, yellow-brick former home to a Western Beef supermarket, encased with black grid, warehouse-style windows.
At three stories, Apple tells us it set a new height record as the tallest store in Apple's fleet. (Wow!) The previous record was two stories.
The company seems to be imagining this store—the largest in Manhattan—will appeal more to the local crowd, something that would stand in contrast to the tourist-heavy SoHo and Fifth Avenue stores.
The entire third floor of the store is devoted to service/troubleshooting, and Ron Johnson, senior vice president for retail, told reporters this morning that the store would have a first ever "pro labs," where people can come in to learn about design and other software.
"If you look at who lives in this lower west part of Manhattan—there's a variety of people—but one of the common groups is creatives—movie makers, musicians, photographers, graphic designers, and we believe they need a place to take their craft to the next level," Mr. Johnson said.
The interior was of course filled with computers, iPods, iPhones, natural light, a glass staircase, and shiny silver columns that look like the exterior of a MacBook Pro.