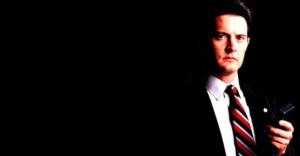 My friends never understood my crush on Kyle MacLachlan. They had only seen him as Trey MacDougal, the stiff-collared, vanilla doctor with erectile dysfunction on Sex and the City. "The man calls it his John Thomas," one of them said with an eyeroll. Or, even worse, they've watched Desperate Housewives (poor things) and know Mr. MacLachlan as Orson Hodge, the shifty guy who "knows where the bodies are buried."
So, I had an intervention. On one of the first chilly weekends of the winter, I made some cherry pie, stacked up some donuts, put on a huge pot of coffee and sat my friends down to watch Twin Peaks, the 1990 show created by David Lynch that became a cult hit. The 10-disc Twin Peaks: The Definitive Gold Box Edition (The Complete Series) comes out this week.
To me, Mr. MacLachlan will forever be Dale Cooper, the FBI agent sent to a tiny town in the mountains to investigate the murder of the local homecoming queen, Laura Palmer. Cooper is probably my favorite TV character to ever grace the small screen (besides maybe the Log Lady from the same series). He has quirky investigation methods, enjoys a nice slice of pie and a damn fine cup of coffee, whittles and is fond of an enthusiastic "thumps up" (swoon)! I wanted to be Diane, the mystery woman to whom he dictated his sage-like musings and notes through a hand-held voice recorder. (His little speeches to Diane are pure TV writing genius).
The town of Twin Peaks is full of these characters. They creep you out and somehow remain loveable at the same time. With all of the half-baked character development on TV these days, the two-decade-old show remains fresh and exciting.
This reissue of the series finally includes the two-hour series pilot, which was previously eluded other Twin Peaks packages in the States because of pesky legal issues. The sound and picture have been spiffed up, with digitally re-mastered video straight from the original negatives. There's also deleted scenes, documentaries and Log Lady introductions to each episode from the Bravo repeats of the series.
So, queue this gem up on the holiday gift list and follow the advice of Cooper: "Every day, once a day, give yourself a present. Don't plan it; don't wait for it; just let it happen. It could be a new shirt in a men's store, a catnap in your office chair, or two cups of good, hot, black, coffee."