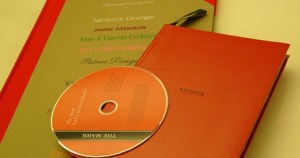 As the only hotel in Manhattan with its own "curator," it is perhaps fitting that The Mark has published a set of Tashcen-esque glossy coffeetable books "introducing" the newly designed, landmark Upper East Side hotel-turned-condo.
Such an expensive marketing blitz calls into question the media hype surrounding The Mark's renovation and the bullish projections about future condo sales there from the Alexico Group, the firm managing the conversion.
The Observer debunked a November report in the New York Post claiming a Russian billionaire had made a $150 million deal for The Mark's triplex penthouse. In September, The Mark's marketer, the legendary Louise Sunshine, told The Observer she expected the hotel's 9,799-square-foot penthouse to go for $6,000 per square foot and called it "probably be the hottest property on the globe."
If even a fraction of the hype is to be believed, Galerie Mark's release of two French-inflected, illustrated books appears to be an incongruous strategy. "C'est l'adresse plus chic de New York!", reads the first page of the smaller, red-bound book, Assets, detailing the new amenities at The Mark with illustrations and photos. Below an illustration of a gaggle of European-types imbibing cocktails at "Le Bar," a caption reads "un martini for the eyes, un aperitif for the soul." Each apartment is equipped with fixtures like a Mackintosh Thermostatic Mixing Valve–a.k.a. a shower nozzle–and a "Boffi Kitchen" (an Italian luxury brand).
A larger book, The Story of the Mark Collection, details the accomplishments of "design legend" Jacques Grange, and his "coterie of magically gifted artists and artisans," ach lankily depicted in an accessory symbolizing European sophistication, like an ascott.
"Once there were many buildings, but no longer were there castles," reads the first page.
"The day of such amazing visions, of designers creating worlds of beauty for people who knew how to live, had passed (or so it seemed), until Jacques Grange … recreated The Mark … Vivre the Mark! Vivre the Mark!"