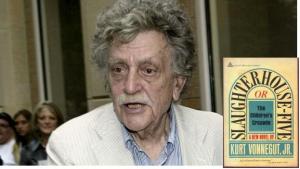 Get out your anti-war paint. The Godlight Theatre Company is bringing the staged adaptation of Kurt Vonnegut's Slaughterhouse-Five or: The Children's Crusade is coming to Off-Broadway. Previews will start on Jan. 11 at 59E59 Theaters and run until Feb. 17.
According to Godlight, "Kurt Vonnegut's absurdist classic, adapted by the Tony-nominated and Oscar-winning Eric Simonson, Slaughterhouse-Five introduces us to Billy Pilgrim, a man who becomes 'unstuck in time' after he is abducted by aliens. In a plot-scrambling display of virtuosity, we follow Pilgrim simultaneously through all phases of his life, concentrating on his (and Vonnegut's) shattering experience as an American prisoner of war who witnesses the firebombing of Dresden. With this significant event as the climax of this satirical and horrifying anti-war story, Slaughterhouse-Five carries a unique poignancy — and humor. A best-seller when released in 1969, the novel brought Vonnegut to prominence as a major voice in American fiction."
The cast will include David Bartlett, Ashton Crosby, Darren Curley, Gregory Konow, Deanna McGovern, Dustin Olson, Nick Paglino, Aaron Paternoster, Michael Shimkin and Michael Tranzilli.