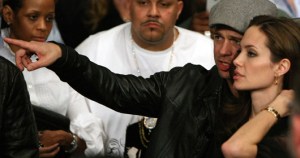 A bevy of big-time stars spent the holidays basking under the sun in exclusive locales, but not Brad Pitt and Angelina Jolie. Instead of jetting to Martinique or Bali for Christmas, the celebrity couple and their family fa-la-la'd with the Colonel and Ronald McDonald.
On Christmas day, Mr. Pitt, who just turned 44, and Ms. Jolie, 32, drove in a white Nissan minivan to a New Orleans McDonald's drive-thru, where they picked up a couple Happy Meals. (After a much-publicized stint shacking up at the tony Waldorf Towers in New York, the famous fam relocated to the Big Easy, where they're working on building a sustainable housing development in the city's 9th Ward.)
On Boxing Day, there was no foie-gras relapse or beef-Wellington withdrawal. After seeing The Water Horse at the local AMC Palace Theater, the Jolie-Pitts headed to Kentucky Fried Chicken.