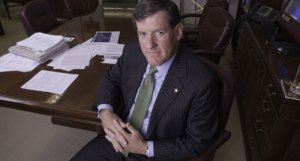 With two years left in his job and a whole lot left to do, Mayor Bloomberg today announced that administration insider Robert Lieber, president of the city's Economic Development Corporation, would become his new Deputy Mayor for Economic Development.
The appointment raises a relative newcomer to the administration—Mr. Lieber joined the EDC last January after working at Lehman Brothers for over 20 years—while moving some of the load of predecessor Daniel Doctoroff to the court of Deputy Mayor Edward Skyler, who will assume control of the environmentally-focused PlaNYC, among other operations.
With all of the major development projects under his watch, Mr. Lieber will likely be rushing from day one (he starts Jan. 8) to get those developments into the ground, as many of the signature development initiatives of the Bloomberg administration have yet to see any cement poured.
Under Mr. Lieber's watch—which in many cases he will share with the state—will be the redevelopment of Pennsylvania Station; the development of thousands of units of low- and moderate-income housing at Queens West in Long Island City; the reinvention of Coney Island; the development of the West Side rail yards; and the planned development at Willets Point in Queens, among others.
When asked at a press conference today about the unfinished projects, Mr. Bloomberg reacted defensively, and said: "I don't think there's any administration that in six years that has done remotely anything like what we've done."
Saying the intention was still to get all the projects finished or in the ground before he leaves office at the end of 2009, Mr. Bloomberg pointed to the state.
"The city projects have gotten going—some of these we're depending on the state," he said. "A new administration came in on the state level and that slowed things down a little bit."
While at Lehman Brothers, Mr. Lieber did some work for Mr. Doctoroff related to the World Trade Center redevelopment, and then "one thing led to another," and Mr. Lieber joined the city, he told The Observer in November.
Somewhat curiously, the environmental initiatives that Mr. Doctoroff had championed will not be under Mr. Lieber's watch, as Mr. Skyler, the former press secretary for Mr. Bloomberg and current Deputy Mayor for Administration, will assume control of the Department of Environmental Protection and the Mayor's Office of Operations/Long-Term Planning and Sustainability. Also added to Mr. Skyler's plate are the Department of Transportation, the Taxi and Limousine Commission, and the Department of Buildings.
Mr. Lieber's title differs some from Mr. Doctoroff's, the Deputy Mayor for Economic Development and Rebuilding, as The Politicker points out.
"We're beyond that," Mr. Bloomberg said of the rebuilding.