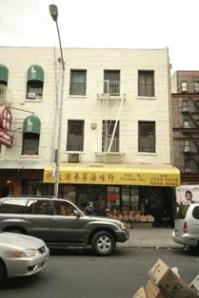 The new landlord of an old Chinatown shop that was repeatedly raided by counterfeit-merch cops this past summer has counter-sued the city for $8.5 million in damages.The offending retailer, known as G.T. Trading, has since been booted from the premises, located at 196 Grand Street, and the landlord claims to have even removed the former tenant's secret stash room.
Yet, an ongoing court injunction prevents the owner from leasing out the now-vacant 400-square-foot space and may further cause the owner to default on his mortgage, according to court papers.
Ownership of the building changed hands in July — barely one month before police seized 1,820 counterfeit handbags and wallets valued at $93,000 from the store.
On prior occasions, beginning in June, undercover cops bought an alleged Coach wallet ($20), two alleged Chanel handbags ($55 each), and an alleged Gucci handbag ($30), court records show, and also made several arrests.
An attorney for the building's new owner, who purchased the property for more than $8 million, stated that his client "had no actual or constructive knowledge" of the illicit sales until cops served him with a restraining order in August.
Moral of the story: always ask to view any hidden compartments before buying the building.