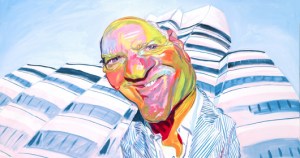 On far West 18th Street—past the housing projects and the parking lots and the auto-body shops, where the High Line is home not to condos but homeless people—the new, $100 million international headquarters of Barry Diller's company, InterActiveCorp, rises like an undulating, reflective space station. The lobby is home to the largest video wall in the world, and another video wall, behind the security desk, that shows statistics from various IAC Web sites. Recently, it showed how many Evite parties were taking place that evening around the world, indicated by red pinpoints on a rotating map. A button on the desk allows visitors to shift the map any way they wish.
"I wanted a white building you could see out of," Mr. Diller told The Observer by phone the other day. The man who created the Fox network twenty-one years ago and who was head of Paramount Pictures for a decade before that, was driving himself through Manhattan, on his way to a lunch appointment, and was stuck in traffic. "It was something of a contradiction in terms until Frank [Gehry] figured it out."
Mr. Diller, whom Forbes magazine estimates is worth $1.5 billion, is a man who is used to getting what he wants. In early November, Mr. Diller, who is 65, announced a plan to spin off parts of his company to create five new entities: IAC, which includes several of Mr. Diller's most well-known brands, including Evite, Match.com, Citysearch and CollegeHumor; HSN, home to several catalogs (Garnet Hill, Smith & Noble) as well as the Home Shopping Network and affiliated Web site; Ticketmaster; Interval International, a time-share resort holding company; and LendingTree, the online mortgage broker.
The spinoffs came after pressure from an increasingly impatient John Malone, the reclusive billionaire head of Liberty Media who owned 24 percent of IAC and had been agitating for changes in the months before the announcement.
"In a way, IAC is starting again," Mr. Diller told investors on Nov. 5, the day the spinoffs were announced.
But it's unclear whether the disparate Internet companies that make up the "new" IAC will, finally, bring the kind of success that Mr. Diller seems to crave—and that he had earlier in his career. He brushes off questions about his legacy at IAC, saying only, "I hope to leave it well."
And so it's hard not to see the building—and the companies he chose to keep under his aegis—as one more attempt to create a lasting media empire to rival that of his onetime boss, Rupert Murdoch, for whom he built Fox in 1986. The seeds of a bitter rivalry were planted in 1991, when Mr. Diller approached Mr. Murdoch and asked to be made a principal in News Corp. According to a 1993 New Yorker article, Mr. Murdoch's response was, "There is only one principal in this company."
Today, the specter of Mr. Murdoch hangs over the company; his decision to purchase Dow Jones, for $5 billion, is a life-defining gamble that Mr. Diller would be unlikely to make. IAC buys Internet companies on the cheap or develops them in-house with a lean staff, and attempts to turn them into profitable online brands. Mr. Diller's career was once defined by his skill at developing original programming—this is the man, after all, who green-lighted The Simpsons, one of the most profitable television franchises in history. Now, his company is made up of sites like Pronto.com, which merges social networking with shopping, relying on strangers' recommendations about consumer products; Gifts.com, which allows you to enter information about a gift recipient and then comes up with ideas; and Zwinky.com, a virtual-reality world geared toward 'tween girls. The paradigm has become, give the people a platform, and they will come.
The pre-split IAC had around 30,000 employees, spread out in offices around the world; the new headquarters currently holds 415 employees—like a special clubhouse for a select few. It's in contrast to other iconic New York media headquarters, like the Hearst building or the New York Times building or the Condé Nast building, which house most of their companies' employees. (Condé Nast CEO Si Newhouse has proposed building a new headquarters for his company on the Hudson rail yards site because he'd like to consolidate the remaining staffers who aren't in the 4 Times Square headquarters under one roof.)
Anyone who spent time at an Internet company during the last or current booms will find the familiar totems at IAC: unlimited snacks and drinks on every floor, a Nintendo Wii in the cafeteria on the ninth floor, bagels all day. The bathrooms are a jarring departure from the generally muted tones: bright tiles in primary colors arranged in random patterns, and a bright yellow counter. It's like an elementary school at the circus.
Open cubicles, each with a desk in a boomerang shape and individual coat closets, sit in the middle of each floor; offices line most of the walls. There are conference rooms tucked into oddly shaped spaces, tricked out with the latest in videoconferencing technology: huge flat-screen televisions, wireless keyboards, and SMART boards, which allow users on one side of the country to write something that—magically!—shows up on the other side. Then there are the chairs scattered around each floor, some of which have tables attached, as if to encourage employee interaction. (This reporter didn't see anyone sitting in them in two visits.) There's also a darkened "quiet room" with a massage chair, a couch and a flat-screen TV—and, of course, snacks. (But no gym! Perhaps they get their exercise in the long walk from the subway, or across the street at Chelsea Piers.)
At one point in his career, Mr. Diller was the consummate Hollywood player; then he revamped QVC from an office in the woods of West Chester, Pa., helping relaunch the career of his longtime best friend and wife since 2001, Diane von Furstenberg (The New York Times Vows column noted, "The marriage came after years of speculation about a relationship widely assumed to be platonic") in the process.
By building his headquarters here, he's staking the claim that IAC is a distinctly New York company, one that will—or, if it fails, will not—make an irrevocable mark on the city's landscape, both mental and physical. "I think New York is the capital of the world, and I don't know how much longer it's going to be," Mr. Diller said, when The Observer wondered why he chose to have IAC headquartered in Manhattan. "I feel that it's where everything connects, particularly in the media business. And so I can't imagine any other place where you would want to have a headquarters."