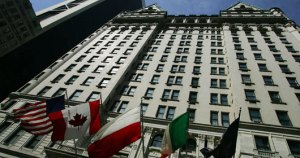 Together, the newly converted Plaza Hotel and the newly constructed Fifteen Central Park West represent the pinnacle of Manhattan's luxury development boom this decade—amenity-laden condos with sweeping views of Central Park and hoity buyer rosters to rival any building's in the city. But only one can be No. 1 in price and it looks like, so far, the Plaza has a slight edge.
The Plaza's most expensive condos have sold for $6,400 a square foot, said Elizabeth Stribling, whose Stribling Marketing Associates is the exclusive sales agent for the building owned by Elad Properties. That's roughly $100 greater than the highest per-foot price attained at Fifteen Central Park West, developed by William and Arthur Lie Zeckendorf. That price is $6,288, according to Terra Holdings, the holding company where the Zeckendorf brothers are co-chairmen.
Sales have closed on 50 percent of the Plaza's condos, Ms. Stribling told The Observer in an interview to be published next Wednesday, and two have sold for at least $50 million.
Ms. Stribling, sitting last Thursday in the private lobby for Plaza condo owners, would not say who the $50 million buyers were (The New York Times has speculated that one is developer Harry Macklowe) but she did rattle off other impressive sales numbers.
"We've had three individual buyers buy apartments for between $40 million and $50 million," Ms. Stribling said, "one between $30 million and $40 million; and four between $20 million and $30 million."
Fifteen Central Park West has claimed its own hefty prices. The family of ex-Citigroup CEO Sandy Weill bought Penthouse 20 there for $42.405 million, the third-highest official apartment sale ever in New York City. (The top is one of those Plaza sales, a $51.5 million purchase by a still-unknown buyer; and the second is Rupert Murdoch's $44 million buy in 834 Fifth Avenue.) Plus, hedge fund manager Daniel Loeb has reportedly purchased another Fifteen Central Park West penthouse for $45 million, though that deal has yet to close.