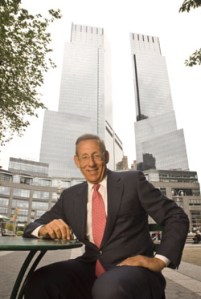 Stephen Ross's Related Companies is receiving an infusion of $1.4 billion from investors, including Goldman Sachs and investment firms from the Middle East, according to an article in today's Wall Street Journal [subscription].
The firm is apparently now worth about $5 billion, the Journal tells us:
The deal, which is expected to be announced today, includes about $400 million in equity from Goldman and MSD Capital, Michael Dell's investment firm. The equity investment gives Goldman and MSD a 7.5% stake in Related, valuing the New York real-estate firm at more than $5 billion.
The investment is sure to further elevate the prominence and power of Related, already one of the city's largest developers, and one of five teams bidding to develop the West Side rail yards.