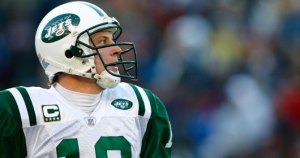 If there was anything remarkable about yesterday's 10-6 loss to a profoundly mediocre Tennessee Titans team, it was the eerie similarity with which the usual events unfolded. Once again, the Jets found themselves in an eminently winnable game against a favored club. And once again, they self-destructed, throwing crippling interceptions, showing no credible running attack, allowing six quarterback sacks, missing field goals and extra points, and otherwise securing defeat where most clubs would have managed victory.
Filling in for an ailing Kellen Clemens, Chad Pennington delivered a credible if unspectacular performance, completing 26 of 32 attempts for 264 yards, one touchdown and two interceptions. As usual, the interceptions overshadowed the gaudy completion percentage and respectable yardage.
The first pick came at 2:07 in the first quarter, when Pennington lofted a ball 20 yards down the right side, looking for Jerricho Cotchery, who had separated from Titans cornerback Reynaldo Hill and was positioned for a big gainer at midfield. But as had been the case so many times before, the pass was underthrown, allowing Hill to recover in time to make a leaping interception in front of Cotchery. The Titans took over in Jets territory. And after Vince Young hooked up with wide receiver Justin Gage for a 29-yard completion along the left sideline, the Titans had first and goal inside the 10. Two plays later, running back Chris Brown crossed the goal line, and the Titans had a 7-0 lead.
Pennington's second pick came at the two-minute mark of the first half, with the Jets trailing only 7-6, thanks to a 9-yard Cotchery touchdown and a blocked extra point. Faced with a critical third and goal from the Tennessee 8, the Jets seemed a good bet to enter halftime with a lead. But Pennington's desperate toss into the end zone landed in the arms of linebacker Keith Bulluck, and the Jets came away with nothing. They wouldn't score a single point for the rest of the game. Instead, they learned another lesson about missed opportunities.
But just as the Jets found too much of the same in Pennington's performance, so did they receive ample reminders that their ills extend far beyond him. The offensive line, a sore spot the season over, turned in one of its worst performances to date. A week removed from sending Kellen Clemens to an early shower—and-X-ray session after a missed block, the front five again let their quarterback down, allowing six sacks, countless pressures, and generally forcing the fragile, immobile Pennington to fend for himself against the likes of Pro-Bowlers Albert Haynesworth and Kyle Vanden Bosch.
And if the Jets were hoping that Thomas Jones could turn water into wine, they were wrong—again. Jones carried 21 times for a woeful 58 yards, posting a long run of only 10 yards, and catching three passes for five. And although the offensive line managed few holes in the Titans stout defensive front, Jones did nothing to elevate the team. Instead, he continued to prove what ought to have been obvious from the day he arrived: he's a serviceable back who can exist—and succeed—in the context of a great team but simply lacks the special ability needed to make a transformative impact on an offense.
And then there was Mike Nugent, the Ohio State wunderkind whose clutch, long-range kicking in Columbus earned him the lofty status of a second-round draft choice. After missing two kicks and an extra point in last year's game at Tennessee, Nugent marked his return to Music City with a blocked extra point and a 50-yard field goal attempt that was hooked 10 yards left.
And so ended another all-too-familiar loss, their twelfth in a forgettable season.
At least the end is near.