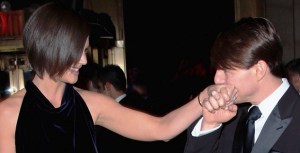 Katie Holmes spoke to Parade about the holidays, of which she has "always been a huge fan." Ms. Holmes, who turned 29 yesterday, recently told the somewhat-random insert mag that she and Tom Cruise plan to spend Christmas with all of their relatives at their Telluride, Colo., retreat.
Once there, she said they like to ski, have big dinners and laugh. And while Ms. Holmes apparently likes her mother's stuffing the best, she and Mr. Cruise will probably get their hands dirty in the kitchen, too.
"I will probably cook some garlic mashed potatoes and maybe a cheesecake," she said, adding: "We always make a lot of sugar cookies with decorating and sprinkles. Suri will be in the dough everywhere. Tom has shown me the greatness of extra chocolate chips. Tom's really good in the kitchen. He makes great pasta carbonara and lemon pasta."
But with all those women in the house, doesn't her actor hubby get bored of all the chit-chat? "Tom understands the female bond, and he loves it," she said.
She also said her husband has given her a "big life."
"We do a lot of things that I couldn't imagine doing when I was younger. And yet, at the same time, I always wanted to see the world. It is a big life, and it's exciting. I learn from my husband, and I learn things about myself. I learn about things from my daughter. She teaches me a lot. Every day I do count my blessings," she said.
Sharing Holidays Is Spectacular! [Parade via HuffPo]