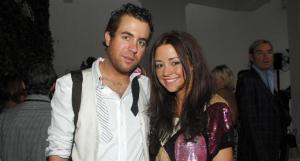 Last week, The Daily Transom posted an e-mail we received from party boi Kristian Laliberte. Meaning to promote a forthcoming Web site, called FameGame.com (à la SocialiteRank.com), he heralded its ability to assess "the tangible, actual, and measurable results of a person's fame." At the time, we remarked on the impressive, colorful tapestry of language Mr. Laliberte had so expertly loomed, seemingly for our pleasure.
Since then, our delight has been felled like a rotting tree. Ana Finel Honigman, a broadly-published New York and London-based critic and journalist, wrote us to say that "this Kristian Laliberte guy is clearly a monkey."
Yeah, okay, so what? Well, he borrowed material from her, big-time. That's what! As Ms. Honigman just told us, the Unruly Heir publicist selected portions of her recently-completed, yet-unpublished article for Britain's Tank Magazine to craft his own e-mail. This was done without her permission.
(Mr. Laliberte was unavailable when we attempted to reach him for a comment. We will post his response, should he have one, when he becomes available.)
Having nothing at all to do with a social-ranking Web site, Ms. Honigman's piece is about an upcoming exhibition by an artist collective, called FameTheory. The group's show—which will open at the Sara Tecchia Roma New York gallery on December 18—according to Ms. Honigman, is what Mr. Laliberte should have been promoting in his e-mail. Not a digital fame calculator. It seems he misunderstood the background materials he had been sent to prepare a release, namely the FameTheory article, which will run later this month.
"This text that he sent out makes no sense. It has no viable information," Ms. Honigman told us. "When my [Tank] article comes out, it will give the impression that I somehow had something to do with this, and something to do with the language he was using," she said with audible concern. "He basically extracts my lead and alters it so that it's nothing I would ever be proud of."
Herewith, a couple comparative samples from the respective texts:
From Ms. Honigman's Tank article:
Even the most coolly blasé people at a party clock it when a famous face enters the room. And a recognizable name turns a banal gathering into an event in the same way that a dash of spice turns mere food into a meal.
Now, from Mr. Laliberte's e-mail:
Admit it–even the most blasé people at an event clock it when a famous face enters the room. Celebrity–in any form—can turn the most bromidic soiree into an occasion.
FameTheory hopes to answer that question by illuminating the actual, tangible and measurable impact of networking on artists' market value, while in the process helping artists to employ social capital to their best advantage.
Famegame.com seeks to answer this question by illuminating the tangible, actual, and measurable results of a person's fame.