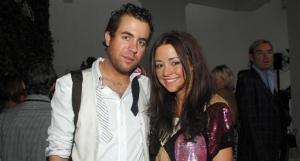 To be honest, party boi Kristian Laliberte has fallen off The Daily Transom's radar recently. In fact, we were mere millimeters from forgetting about the guy altogether. And then he sent us something so darling, so mind-blowing, it would be a crime not to share.
It seems Mr. Laliberte, a publicist of sorts, mourns the loss of Socialite Rank, the posthumous Web site that once assigned points to real socialites like Tinsley Mortimer and to other people who simply fancy their bag: Champagne, Patrick McMullan, sick shoes, ranking stuff (after college). He apparently misses the concept so much that he was able to craft a heart-pounding e-mail announcing the launch of a similar enterprise, FameGame.com.
Here, in Mr. Laliberte's own titillating words , is the gist:
Admit it–even the most blasé people at an event clock it when a famous face enters the room. Celebrity–in any form—can turn the most bromidic soiree into an occasion. But while everyone is cognizant of the fact that "fame" is an ingredient which never fails to add some flavor, no one really knows how much substance the casual cameo of the personage in question adds. Famegame.com seeks to answer this question by illuminating the tangible, actual, and measurable results of a person's fame. With a deep affinity for the arts, the FameGamer's aim to but their complicated algorithm into use on February 29th, an event officially launching Famegame.com and debuting 29 unique cultural projects, where guests can actually invest capital into helping implement these ideas.
Please join the Fame Game team and a select group of "cultural curators" who will determine some of the content on display at the launch, on Thursday December 13th at 9pm at Guesthouse. Enjoy complimentary cocktails and passed hor'douevres while learning more about FameGame's unique mission, philosophy, and goals.
Please read the attached press release to understand more about what FameGame.com is as well as the fascinating February 29th launch event, tentatively entitled "29."
—
Kristian Laliberte
Founding Partner, Heir Apparent New York